Kansas City Chiefs vs Oakland Raiders Live Stream: Watch Online NFL 2013 Football (Start Time, TV Info)
Kansas City Chiefs vs Oakland Raiders is the big AFC West game on Sunday in week 6. The Chiefs have a perfect record but astonishingly they are still only second in the AFC West table – thanks to Peyton Manning and his high flying Denver Broncos who are also 5-0. Today's big AFC West match up will start at 1 p.m. ET and can be watched online through live stream (details below).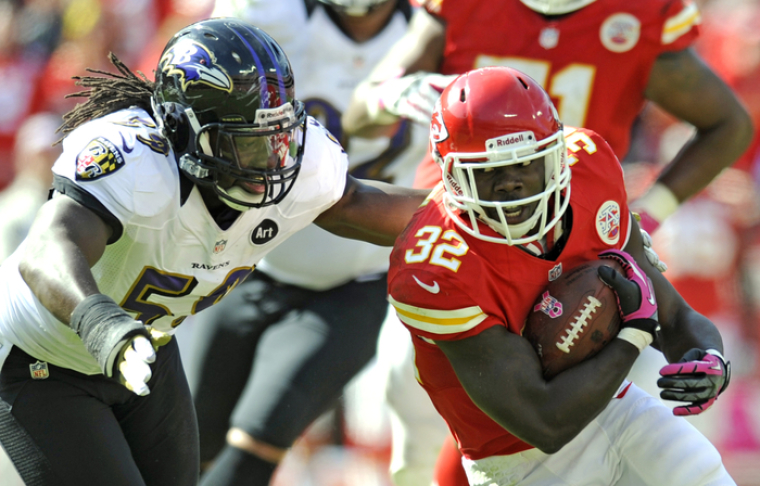 The Chiefs come into this game on 5-0 and with the very realistic chance to go 6-0 today, but also seeing as this game is the first of three straight home games, they very well could go 8-0 if they can maintain the Arrowhead Stadium as their fortress.
In recent weeks the Chiefs have demolished the pitiful New York Giants 31-7, and last week they went on the road to defeat Tennessee 26-17 in a very good performance.
Following today's game against Oakland they will host the Houston Texans as well as the Cleveland Browns in two very winnable games; and they very well might have to win all three to go 8-0 if they are to keep up with the Broncos, who seem to be scoring 40-plus points every week as standard now.
Meanwhile the Raiders have bounced back well since their Week 4 14-24 loss to Washington Redskins. Last week they played San Diego at home and claimed a solid 27-17 victory.
They will hope to get themselves back to .500 today with a win as they currently sit on 2-3. Next week will be their bye week so they will have the hopes of closing out on 3-3 and then refocusing their efforts to push on when they come back in week 8 against Pittsburgh.
Kansas City Chiefs vs Oakland Raiders will start at 1 p.m. ET and can be watched on TV on the CBS network or online through live stream by clicking here.
Kansas City Chiefs vs Oakland Raiders - December 24 2011