Mayweather vs Pacquiao Fight 2015 Ticket News, Preview: Tickets for May 2 Megafight Not Yet On Sale
It's only two weeks before Floyd Mayweather Jr. and Manny Pacquiao get to duke it out in the most anticipated fight in recent times, yet according to ESPN, tickets for the fight have yet to go on sale.
According to the website, the two camps and MGM Grand are currently locked in a standoff over allotments, and when tickets finally go on sale, only a few will reportedly be sold at the listed price.
"It's bizarre, normally there's a public sale 10 weeks before the fight," Connor Gregoire, an analyst for Seatgeek.com to ESPN. "To our knowledge, no one has a printed ticket in their hands right now."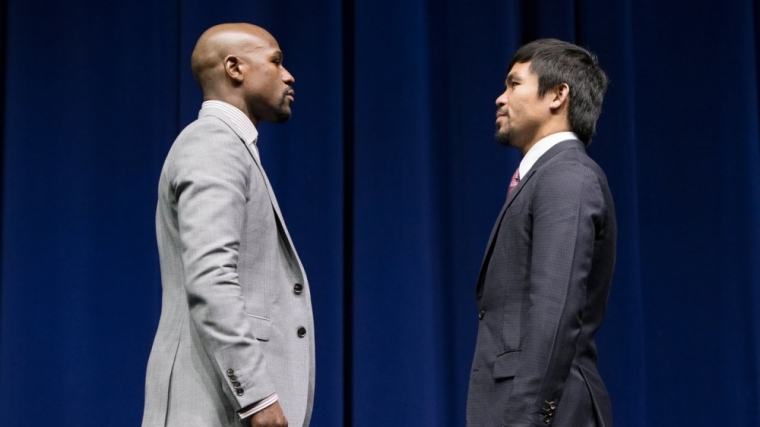 It was reported that MGM officials have been tight-lipped about the availability of the tickets. The hotel issued a statement on Friday saying there would be a "limited number of tickets available for sale" and that it is coordinating with promoters to finalize a date for their release.
Last month, it was announced that tickets at the MGM Grand Garden arena will cost from $1,500 to $7,500. But those prices have reportedly already tripled in the resale market even before tickets are available, and Pacquiao's and Mayweather's camps are said to be arguing over how many seats and at what price level each party gets.
Pacquiao's manager, Michael Koncz, blames the Mayweather camp for the dispute, saying that they refused to sign a term sheet negotiated months earlier that specified ticket allotments for each camp.
"I can only surmise the motivation is greed and an attempt to manipulate the tickets, otherwise, why the holdup?" Koncz said.
Koncz also said that despite both boxers having plenty of celebrity supporters, no one is getting in for free.
"Nobody's getting free tickets," said Koncz to ESPN. "Even Bob [Arum, Pacquiao's promoter] has to pay for his ticket in the first row."