Minnesota Vikings vs Carolina Panthers Live Stream: Watch Online NFL Football - Adrian Peterson to Play Despite Son's Death (Start Time, Fox TV Info)
Minnesota Vikings vs Carolina Panthers will take place in week 6 of the NFL season today with the game overshadowed by the shocking death of Vikings' RB Adrian Peterson's 2-year-old son. Despite the tragic news that emerged on Friday, Peterson has been adamant that he will play today, saying that he needed football to help him get through the tough period in his life. The game will start at 1 p.m. ET and can be watched online through live stream (details below).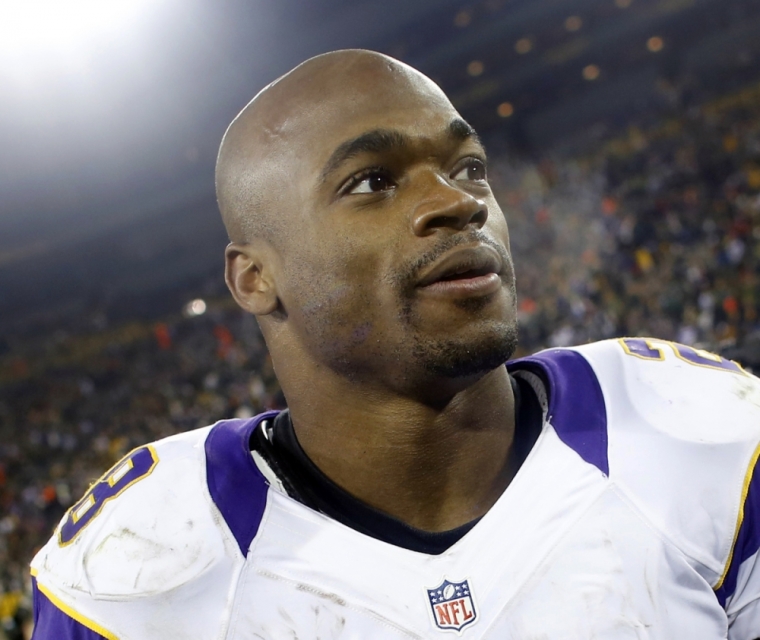 It was Friday when news broke that Peterson's 2-year-old son had died in a South Dakota hospital after suffering terrible injuries from an aggravated assault. It has been reported that the young boy was being cared for by the boyfriend of his mother, Joseph Robert Patterson, when he was horrendously assaulted.
Police have said that Patterson called 911 to report the boy had suffered a choking accident, and he was rushed to hospital in critical condition. However, once he was there it was soon discovered that his injuries were consistent with abuse and not an accident. Patterson has since been arrested and charged, and the young boy tragically died on Friday in the hospital from his horrific injuries.
Peterson has tried to keep low-key since the incident, missing Vikings' training on Thursday, and only briefly speaking to the media on Friday where he asked for privacy and for the press to respect his "private matter."
The RB told the press, "I should start off by saying I really appreciate all the support that I've been receiving from fans, the Vikings organization."
On today's game he told the media: "You know, football is something I will always fall back on. It gets me through tough times. Just being around the guys in here, that's what I need in my life, guys supporting me, and just being able to go out and play this game I love. Things that I go through, I've said a thousand times, it helps me play this game to a different level. I'm able to kind of release a lot of my stress through this sport, so that's what I plan on doing."
Jared Allen, Vikings' defensive end, expressed that he was praying for Peterson, and reassured that "God has a plan." He told Pioneer Press, "Being a father is the most precious part of your life. You have to be there to support him. That's all it is, and I don't know what that entails, whether it's being a necessary distraction, or there to lend a comforting arm, hand, word, whatever it is.
He added, "Everyone has different ways of going through things, so you give them their space, and if they reach out, you're there to do whatever they need. Too much emphasis gets put on football. We're all human beings, we all have real-life problems, and tragedy can strike anybody. I know Adrian is a man of faith, and God has a plan. All we can do is pray for him and lend a shoulder, a word or whatever it is. "
Tight end Kyle Rudolph also reported that all the team had been offering their support to Peterson, and were praying for him.
"We do everything we can to be there for Adrian," said Rudolph. "I know a lot of guys contacted him yesterday via text message or whatever, just to let him know that, 'Hey, we're here for you if you need anything. You're in our prayers, your family is in our prayers',"
He added, "We understand that Adrian is going through a lot. As teammates, while we're here at the facility, we can be there for him and try to make things as normal as possible."
Although Peterson has been clear he wishes to play today, it is certainly possible that he could still pull out last-minute if he changes his mind, and the team's coaches are sure to give Peterson the space to make the decision for himself and do what's best for him.
For the Vikings, despite the tragic circumstances the game is being played under, today's match up is important in determining how their season will go. They are 1-3 and need to pick up a good series of wins to crawl themselves back into postseason contention. Despite ranking 4th in the NFL for points scored per game (28.8 points on average), the Vikings defense has been too leaky, and they have shipped far more points than they will be comfortable with. They will hope to address those issues today and claim the much-needed win.
One thing working in the Vikings' favor is that the Panthers are in a similar situation and are 1-3, knowing they must start clicking together or things could go downhill very quickly. However, the Panthers have been overly reliant on rush in offense, ranking 7th in rush and just 30th for pass. They are ranked just 27th in the NFL for points scored per game (18.5 points) and that will be a comfort to the Vikings defense who will hope to keep the Panthers below 20 points today to give their offense room to claim the win.
Minnesota Vikings vs Carolina Panthers will start at 1 p.m. ET and can be watched on TV on the Fox network or online through live stream by clicking here.
Minnesota Vikings @ Carolina Panthers 2009