Minnesota Vikings vs Green Bay Packers Live Stream Free: Watch NFL 2013 Football Online (Start Time, Fox TV Schedule)
The Minnesota Vikings will take on the Green Bay Packers in a big NFC North division match up on Sunday. It's already Week 12 of the regular season and for the Packers it is quickly becoming do or die time, and even though they are still competing for the division title, a recent lull in form has seen them fall to third in the division. They must now put all focus into finishing the season strongly if they are to have any chance of winning the title this season. The game will start at 1 p.m. ET and can be watched online through free live stream (details below).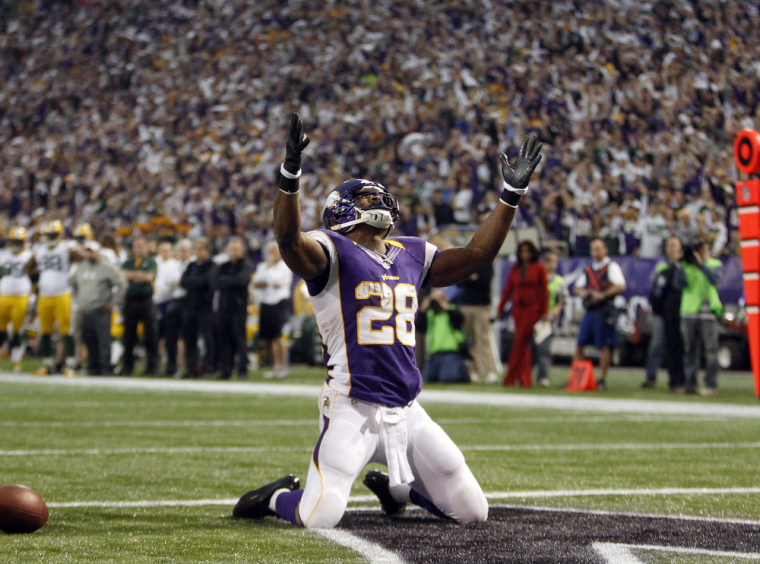 The Packers are on 5-5 coming into today's match up, and are now behind the Detroit Lions and Chicago Bears, who are both on 6-4.
Meanwhile, the season is long gone for the Minnesota Vikings who are on 2-8, however, they will be desperate to finish the season strongly, and will want to take down Green Bay in today's big game.
The Packers have hit bad form at the wrong time. They have gone from 5-2 to 5-5 with three straight defeats in recent weeks. In fact their last victory came against the Minnesota Vikings in Week 8 when they won on the road 44-31.
However, as soon as November hit they have slumped badly. Things started going off the rails with a 20-27 loss to the Chicago Bears in Week 9, and then in the past two weeks they have lost both games 13-27 against first the Philadelphia Eagles, and then last week against the New York Giants.
They must return to form fast if they are to get back to the top of the NFC North.
Despite their recent poor form, the Packers remain one of the best ranked offenses in the league, ranking 7th in total points scored per game (25.8 points), and 2nd in total yards gained per game (417.4 yards).
Meanwhile, the Vikings managed to gain a good 34-27 victory over the Washington Redskins in Week 10, but then fell badly last weekly, losing to the Seattle Seahawks 20-41.
They will, however, have noticed the Packers' poor form, and they will look to exploit a team low on confidence.
Today's big game between the Minnesota Vikings and Green Bay Packers will start at 1 p.m. ET and can be watched on TV on the Fox network or online through free live stream by clicking here.
Minnesota Vikings vs Green Bay Packers WEEK 12 NFL PREVIEW, 11/27/13