MMA News 2016: Heavyweight Fighter Dada 5000 Admits Poor Preparation Led To Heart Attacks During Bellator 149 Fight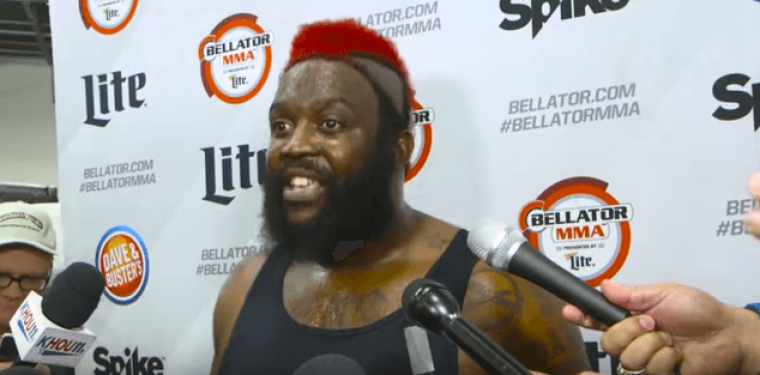 Youtube street brawler turned mixed martial arts heavyweight fighter Dhafir Harris, better known as "Dada 5000", suffered a huge setback last February 19th, when fellow brawler Kimbo Slice defeated him.
Not only did Harris suffer his first professional defeat, he was also put in the brink of death in the said fight. After falling face first third round of their fight, it was later revealed that he suffered two heart attacks and renal failure.
According to a report by Bloody Elbow, Harris was immediately hospitalized after the fight, and was only cleared to be released and sent home last March. Harris' poor performance was mainly attributed to poor preparation.
Days after the said fight, UFC analyst Joe Rogan went on to share his opinions, by first calling the contest the "worst he had ever seen". After which, he lambasted Harris' conditoning and preparation, saying his heart was "filled with cheeseburgers, fried chicken, and orange soda", seemingly alluding to him following a poor diet for the fight.
Rogan took flak about the said statements afterwards, with Harris' family issuing their own response.
Harris himself hand not yet spoken about the incident. He did post an Instagram photo early this month, citing his current health status, he also took it down immediately.
He did, however, speak in further detail about what had happened during the Dan LeBatard show on ESPN on Wednesday (as reported by MMA Fighting).
In the said interview, Harris basically conceded to the fact that he did not prepare well enough for the said fight, knowing fully well about the consequences that it entails.
"I probably pushed myself. Instead of taking a couple months, I probably double-timed it. So I wouldn't say (I cut weight) poorly," Harris said. "I think that my body was not used to that, because I'm not a full-time fighter."
"So I don't fight regularly. I'm a promoter, I'm a matchmaker, I do a lot of things inside my organization with BYB and inside the backyard."