New York Church Defaced With Spray-Painted Images of Upside-Down Crosses, 'Witch Spells'
New York Church Defaced With Spray-Painted Images of Upside-Down Crosses, 'Witch Spells'
A New York pastor dismissed the vandalism attack that hit his church last week as just "paint on the walls [and] no one got hurt," but it still spelled trouble for the Christian community and the police.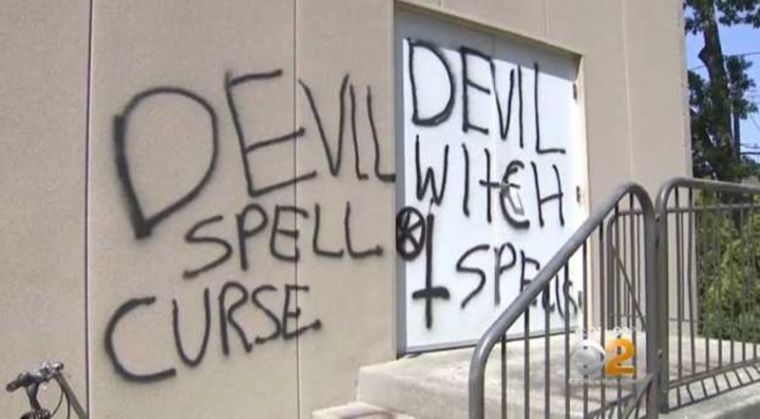 Vandals spray-painted the New Covenant Church in Long Island with multiple upside-down crosses and the words "cursed devil" and "devil witch spells," local television station WABC reported.
Nassau County police said the vandals shattered the church's front glass door spray-painted anti-Christian graffiti throughout the exterior walls, doors and steps of the building.
Pastor Rob Taormina, the pastor of New Covenant Church, said the vandalism occurred sometime after the Sunday service on June 11. He said,
"It's just a coincidence that Sunday morning, my message was on love," he told reporters. "Love is patient, love is kind. So we're going to be patient, and we're praying for the individuals and believe in God, that God will touch them."
The police said they're treating the incident as a hate crime. But their investigation is hampered by the lack of surveillance cameras at the church.
Taormina said they now plan to install cameras. At the same time, he said what happened is no big deal. "With all the problems in the world," it's just a matter of "fixing a broken window, and we can fix that."
Last January, a church and cemetery in Arkansas were also vandalized with various Satanic messages and images.
Flat Rock Church and its adjoining cemetery were spray-painted with messages like "Death to God," "Satan be with you" and "666." Both the interior and exterior of the church were vandalized, as well as headstones in the cemetery, according to a report posted on Facebook by Izard County Sheriff's Department.
Last month, an openly gay liberal admitted to vandalizing an Indiana church with pro-Nazi Donald Trump rhetoric in November 2016 as a way to rally people following the presidential election, The Christian Post previously reported.
St. David's Episcopal Church in Bean Blossom was reportedly spray-painted with the message "Heil Trump," a homophobic slur, and a swastika.