Pair Sneaked Into Super Bowl: Beyonce Super Bowl Halftime Performance Aided Security Breach (VIDEO)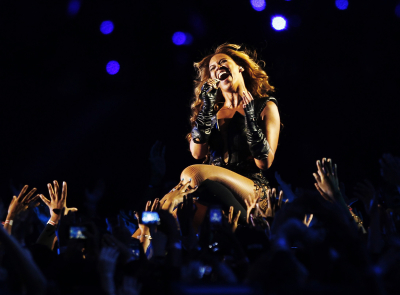 A pair of college students who sneaked into the Super Bowl without tickets have said that it was Beyonce's half time performance that provided them with the distraction they needed to get access into the stadium.
The two college students from Georgia have explained that they were able to enter the stadium through a loading dock while everyone was distracted watching Beyonce's hugely anticipated half time performance.
They even took a video of what they did and have said they hope revealing what they did will help the Superdome to improve its security in the future.
Joseph Roberts, 32, an English major at Savannah State University in Georgia has said, "Everyone was watching Beyonce."
Roberts has explained how he and fellow student, Malachi Youngblood, 24, traveled to New Orleans for the Super Bowl on Feb. 3 to join in the festival-like atmosphere even though they did not have any tickets for the event, which could have cost them from $850 to $1,250.
The pair of students have described how they had cameras strapped to their foreheads and were filming the crowds around the stadium on Bourbon Street. They then walked to the front of the stadium and walked through the parking decks and tailgate areas, and finally to a loading dock.
Throughout their journey they were only questioned once by police about whether they had tickets. An officer reportedly stopped them, and they admitted they did not have tickets and simply turned around and went in a different direction around the stadium.
The students have said they simply walked through the loading dock and found themselves able to watch Beyonce's half time performance along with everyone else, according to Reuters.
The pair said they were stunned to be inside the stadium, and confess they were so "nervous" and "scared" that they only stayed for a few minutes after half time before leaving again by walking out from the front gates at the Superdome.
"If something needs to be addressed, we hope this video can spark the dialogue," said Roberts. "The only way we can help is through telling our story."
Here is a video of Beyonce's halftime performance at the Super Bowl 2013: