'Rick and Morty' Season 3: RPG Game Rumors and 2017 Premiere Date (VIDEO)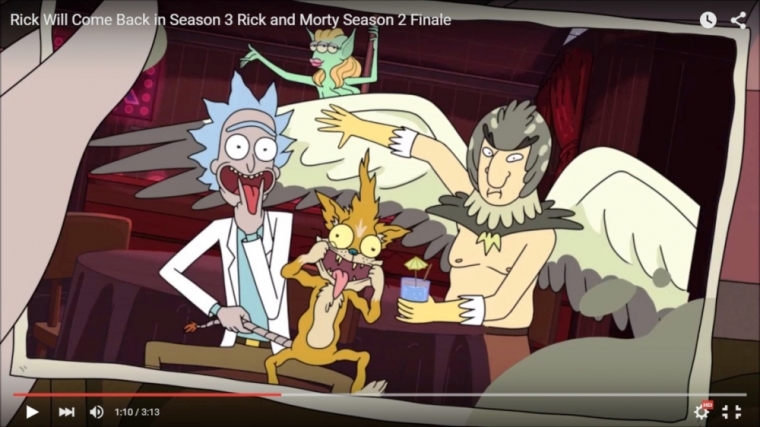 "Rick and Morty" Season 2 ended last month and already, fans of the popular animated series are hearing speculations the third season may be airing in 2017.
After critically acclaimed Adult Swim animated series, "Rick and Morty" was renewed for a third season this August, rumors have been circulating online the show will be returning in March 2017.
One rumor was based on a summer podcast show co-creators Dan Harmon and Justin Roiland were in where they hinted on a possibility the show might become an RPG video game, given the "Rick and Morty" environment already appears very much like one.
In the ETC Podcast in August, Harmon pitched an idea of "Rick and Morty" as a "Bethesda-style RPG" game rendered in 3D, with Roiland responding enthusiastically.
While there has not been any news about whether a "Rick and Morty" game world will see reality, there may still be a possibility Season 3 will contain an episode rendered in an RPG world.
There have also been speculations Season 3 will have an episode focused on Beth Smith's backstory, as well as a crossover with Disney TV's "Gravity Falls," which is reportedly getting the axe after only two seasons.
According to Movie Pilot, "Rick and Morty" and "Gravity Falls" share a kind of relationship in that Roiland and "Gravity Falls" creator Alex Hirsch used to work together in Disney Channel in the past, and a theory that the two show's sci-fi universes are related will soon pave the way for a crossover on "Rick and Morty."
Another Movie Pilot report points out that Beth's backstory will also take a look at why Morty's mom would allow her crazy father to take Morty along on his dangerous and hairbrained adventures in space. With Beth's own storyline forming a part of Season 3, audiences will finally get to know Morty's mother, who has always been in the background in the last two seasons.
Finally, "Rick and Morty" Season 3 is rumored to be returning to Adult Swim on March 5, 2017, based on Mr. Poopybuthole's statement during the Season 2 credit sequence, pointing to the date as the earliest possibility the show will be returning.