San Diego Chargers vs Kansas City Chiefs Live Stream Free: Watch NFL 2013 Football Online (CBS TV Schedule)
The San Diego Chargers will play the Kansas City Chiefs on Sunday in Week 12 of the NFL 2013 regular season, as the Chiefs look to bounce back following their first loss of the season last week against division rivals the Denver Broncos. Today's game will start at 1 p.m. ET and can be watched online (details below).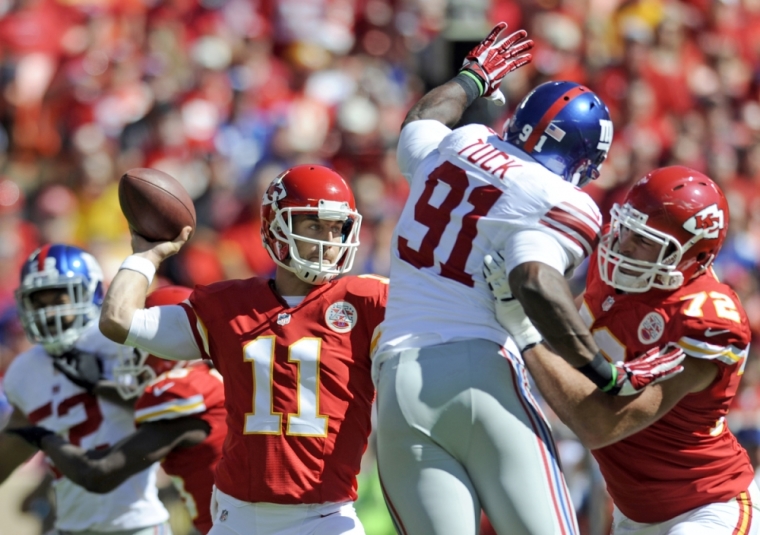 The Chiefs will be desperate not to let last week's 17-27 loss to the Broncos knock their confidence and spark a slump. They will want to bounce back with a win today to set up a big showdown for Week 13 when they face the Denver Broncos once again, in a game that could decide who wins the AFC West division title.
At the moment, both the Broncos and the Chiefs are tied on 9-1. The San Diego Chargers and the Oakland Raiders are both on 4-6 at the bottom of the AFC West.
Today's game will be the first of two for the Chiefs at Arrowhead Stadium, and there's every chance that if they win today and next week they could snatch the title from Peyton Manning and his Broncos.
One positive for the Chiefs from last week's loss was that they did not let the Broncos blow them away like many had expected. Instead they contained Peyton Manning and the Broncos offense to just 27 points – much lower than most have been able to keep them at this season. However, in the end of the day a loss is a loss. But the nature of the result will give them hope that they do have a chance at causing an upset when they host the Broncos next week.
Meanwhile, the Chargers have hit a slump in form recently, and in recent weeks they have lost to the Broncos, and then 16-20 against the Miami Dolphins last week. After today's on the road game, they will host Cincinnati and the New York Giants at the Qualcomm Stadium.
The Chargers against the Chiefs will start at 1 p.m. ET and can be watched on TV on the CBS network or online through free live stream by clicking here.
San Diego Chargers vs Kansas City Chiefs WEEK 12 NFL PREVIEW,11/24/13