SNL on the Sequester: $85 Billion Worth of Cuts in 'Human Terms' (VIDEO)
President Obama ordered $85 billion worth of federal budget cuts on Friday after Democrats and Republicans failed to come to an agreement. But for those who failed to understand the direness of the situation, "SNL" has offered a more "human" explanation of the problem.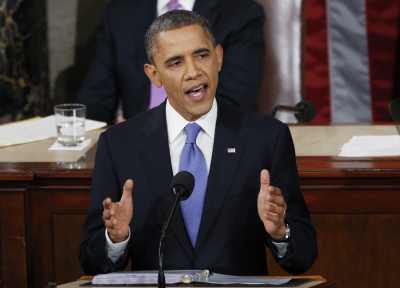 "I could explain it in financial terms or in human terms," Jay Pharoah, who impersonated President Obama, said on Saturday. "But since I have no idea how money works or how budgets work, I'll go with human terms instead."
During the skit, different workers appeared to describe how their departments would be handling the spending cuts.
"We're going to have to let every tenth Mexican just run across the border," a Border Patrol agent states.
"It's tough for me to say this but we are going to have to fire three of our monkeys," a zoo keeper adds. "We're just going to let the loose in the city."
Other parody budget cuts included the TSA asking passengers to use camera phones for security inspections, astronauts having to hold their breath in space because they cannot afford the glass on their space helmets, and butchers having to reduce meat inspections.
The skit finished of with a sailor, a cop, a construction worker, and a Native American impersonating the Village People, and all of them suffered from budget cuts. While many found the skit entertaining, the issue it referenced is serious, according to the President, who has pushed for more public support.
Both Republicans and Democrats have blamed the other side for failing to make a compromise, which would prevent the automatic budget cuts from taking place. Republicans are unwilling to consider a plan that increases taxes, while Democrats are wary of accepting a deal that does not raise enough revenue from the rich.
"What's keeping us from working together is the Republicans taking this absolutist position that all future deficit reduction must come from the middle class, from seniors, from children, from national security," Obama said during a Friday press conference.
"We said we're open to discussing how to reconfigure those spending reductions without raising taxes," Senate Minority Leader Mitch McConnell said Sunday.