The Coalition Unveils New 'Gears of War 4' Trailer, Mode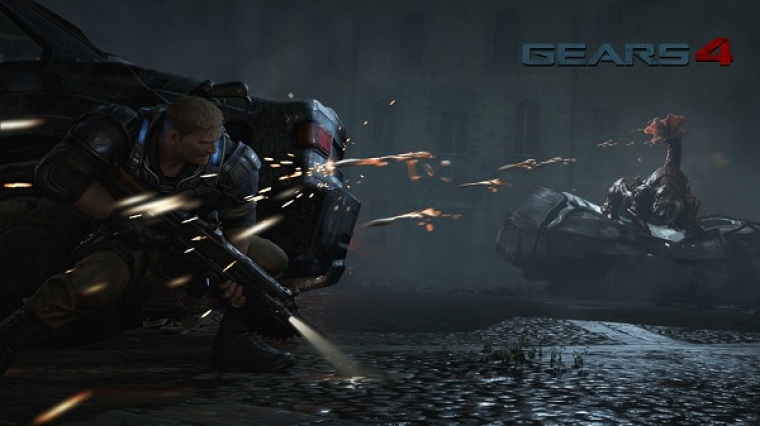 The Coalition is hyping up "Gears of War 4," releasing a new trailer that provides a sneak peek at the new weapons, executions, and modes, among other things. The developer also provided some details about its announcements during the PAX East 2016 this weekend.
The trailer (below) is a showcase of blood and gore packaged to the tune of "Nobody Speak," a new track from DJ Shadow and Run the Jewels. It features the new cast of characters in brutal and intense action as well as shows off new weapons, abilities and executions, maps, and modes.
New weapons include Dropshot and Buzzkill. Meanwhile, new abilities are Vault Kick and Yank.
The trailer also showed briefly three new maps, Dam, Foundation, and Harbor. The same goes for a trio of new modes and five fan favorites. The new modes, Dodgeball, Co-op Versus, and Escalation, join classics such as Team Death Match, Execution, King of the Hill, Warzone, and Guardian. The new mode Dodgeball is described as "the ultimate gears clutch mode." Co-op Versus will let players face off with AI. Meanwhile, the new Escalation mode involves "tactical intensifying action and weapon placement."
Fans will get to try all of these in "Gears of War 4" Versus Multiplayer Beta that is scheduled to start next week from Monday, April 25, to Sunday, May 1. The beta will be available to all Xbox Live Gold members.
For those who can't wait till Monday and happen to be attending the PAX East 2016 this weekend in Boston can learn more about "Gears of War 4's" Versus Multiplayer during the panel "Out of the Shadows: Inside Gears of War Multiplayer with The Coalition." The panel will be held on Sunday at 10:30 a.m. in the Albatross Theater. But for those who can't attend, the panel will be livestreamed on the official "Gears of War" Twitch channel.
"Gears of War 4" will launch on October 11 as an Xbox One exclusive.