Uranium Centrifuge Details Released by Iran's Former Nuclear Chief (INFOGRAPHIC)
Iran has 18,000 Uranium centrifuges, according to the country's outgoing nuclear chief, Fereydoun Abbasi-Davani who spoke on the country's nuclear program on Saturday.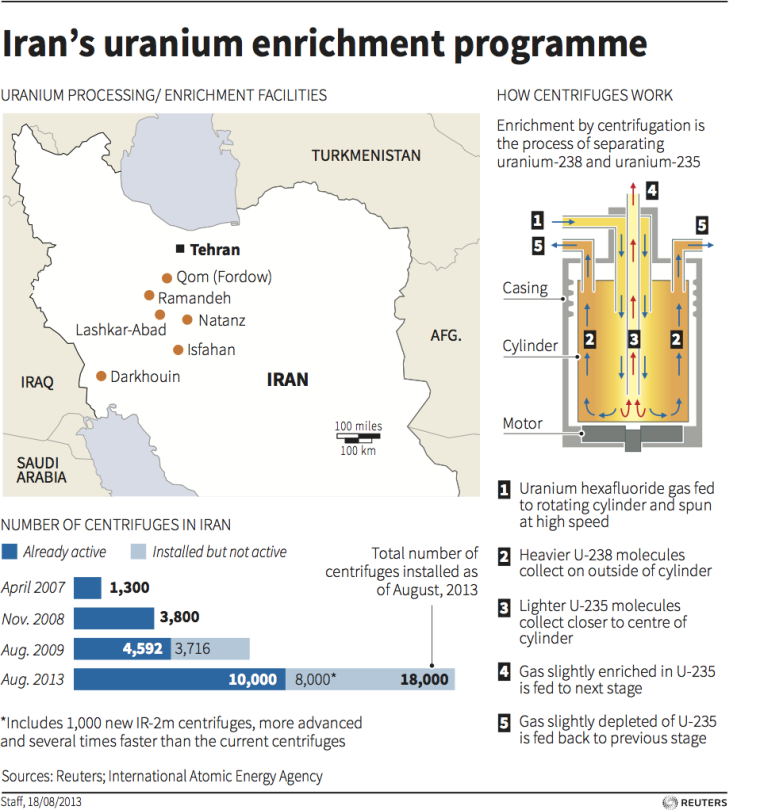 The claim has come from Abbasi-Davani, who was speaking to Iranian media on Saturday.
Iran has continued to build its uranium-enrichment centrifuges as part of its nuclear program despite the United States and the international community pressuring the Middle Eastern nation to stop its nuclear push.
However, Iran has refused to comply with their requests, and has insisted that its nuclear program has nothing to do with weapons, but is simply for "peaceful purposes."
Recently the new Iranian president, Hassan Rouhani, has expressed a slightly more open rhetoric about opening talks with world powers over the country's nuclear program. However, he has been clear that Iran has every right to enrich uranium and has shown no intentions of halting the program.
On Saturday, the ISNA news agency quoted Abbasi-Davani as saying that Iran has 17,000 older "first-generation" IR-1 centrifuges. Out of those 17,000, about 10,000 are still operating and 7,000 are ready to start operations.
Last May the United Nations' nuclear watchdog released a report claiming that Iran had installed about 16,600 IR-1 machines in two separate facilities.
Recently, in addition to the 17,000 IR-1 centrifuges, Abbasi-Davani also said there were 1,000 new, more advanced IR-2m centrifuges ready to start operations. Those new centrifuges would be several times faster than the IR-1.
The International Atomic Energy Authority (IAEA) has claimed that Iran had installed a total of 689 of the new more advanced centrifuges.
It was also recently announced by President Rouhani that Ali Akbar Salehi, Iran's previous foreign minister, will be taking over as head of the Iranian uranium centrifuge program.