Ladies Figure Skating Free Skate Live Stream Free: Watch Yuna Kim, Gracie Gold Online at Sochi Winter Olympics 2014 (NBC Start Time, Schedule)
Yuna Kim will be pushing for her second consecutive Winter Olympic gold medal on Thursday as she competes in the Free Skate program. Kim leads after Wednesday's Short Program, but still has a lot to do with a number of competitors right behind her, including Russian Adelina Sotnikova, Italian Carolina Kostner. American Gracie Gold is a little further back in 4th place.
The Sochi Winter Olympics 2014 figure skating Free Skate event can be watched online from 10 a.m. ET through free live stream (details below).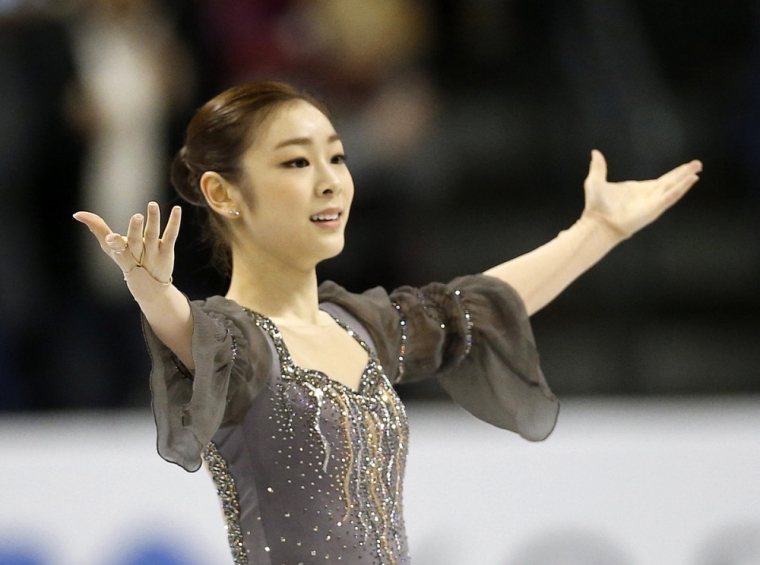 Kim managed to take an early lead in the Ladies' Figure Skating competition in Sochi, managing a fantastic score of 74.92 for her Short Program routine, but was trailed closely by Russian Adelina Sotnikova (74.64), and Carolina Kostner (74.12).
The South Korean skated early on among the 30 skaters, and her phenomenal routine allowed her to apply maximum pressure onto her rivals.
That pressure saw some of her core competition crack; 15-year-old Julia Lipnitskaia looked nervous and fell on one of her jumps as she only managed to record 65.23, which left her well behind Kim and in 5th place.
Gracie Gold of the United States put in a competitive 68.63, although she too looked nervous but managed to just hold her nerves on a few wobbly landings.
Meanwhile, fellow American, Ashley Wagner, lies in 6th after the short program, posting a 65.21.
However, Kim will not feel comfortable at the top of the pile, as Lipnitskaia's Russian colleague, Adelina Sotnikova, smashed her personal best to put on an amazing performance to get the home crowd on their feet in rapturous applause.
Her 74.64 puts her just marginally behind Kim, and if she can pull off a similarly spectacular performance tomorrow she could be looking at a podium finish.
Meanwhile, Italy's Carolina Kostner pulled out one of her classic performances, and she too is just 0.80 behind Kim going into Thursday's program.
Today's Free Skate Program will begin on Thursday at 10 a.m. ET and can be watched online through free live stream by clicking here.
The full results of Wednesday's short program on Feb. 19 can be seen below:
1. KOR Yuna KIM 74.92
2. RUS Adelina SOTNIKOVA 74.64
3. ITA Carolina KOSTNER 74.12
4. USA Gracie GOLD 68.63
5. RUS Yulia LIPNITSKAYA 65.23
6. USA Ashley WAGNER 65.21
7. 12 USA Polina EDMUNDS 61.04
8. JPN Akiko SUZUKI 60.97
9. FRA Mae Berenice MEITE 58.63
10. GER Nathalie WEINZIERL 57.63
11. CHN Zijun LI 57.55 Q
12. ITA Valentina MARCHEI 57.02
13. CAN Kaetlyn OSMOND 56.18
14. CHN Kexin ZHANG 55.80
15. JPN Kanako MURAKAMI 55.60
16. JPN Mao ASADA 55.51
17. GEO Elene GEDEVANISHVILI 54.70
18. KOR Haejin KIM 54.37
19. CAN Gabrielle DALEMAN 52.61
20. CZE Elizaveta UKOLOVA 51.87
21. SVK Nicole RAJICOVA 49.80
22. AUS Brooklee HAN 49.32
23. KOR So Youn PARK 49.14
24. NOR Anne Line GJERSEM 48.56
25. GBR Jenna MCCORKELL 48.34
26. AUT Kerstin FRANK 48.00
27. SWE Viktoria HELGESSON 47.84
28. UKR Natalia POPOVA 47.42
29. EST Elena GLEBOVA 46.19
30. BRA Isadora WILLIAMS 40.37