Zooey Deschanel Caption: Fox News Closed Captioning Mistake Identifies Actress as Boston Bombing Suspect (VIDEO)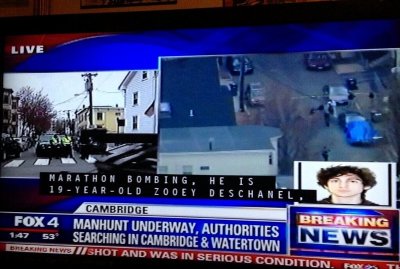 Hollywood actress Zooey Deschanel was the subject of a colossal closed captioning failure on Friday, after she was labeled the Boston bombing suspect on the closed captions for Fox News.
As authorities frantically hunted the second Boston bombing suspect on Friday, Fox News was covering the developments intensely.
However, as Fox was reporting on the identity of the suspect, Dzhokar Tsarnaev, the closed captioning read: "Marathon bombing, he is 19-year-old Zooey Deschanel."
The captioning error was posted alongside a photo of Tsarnaev, and sparked a wave of comments online.
Peter Ogburn, a radio show producer and writer, shared a screenshot of the error on his Twitter account and posted a comment, "Oh come on, Fox."
Deschanel herself soon reacted to being named as the Boston suspect, retweeting the image of the error and posting the message: "Whoa! Epic closed captioning FAIL!"
Ogburn comically replied to the actress, "So, you're saying it wasn't you?"
The real Boston Marathon bombing suspect, Dzhokhar A. Tsarnaev was in fact caught and taken into custody on Friday night at about 8.40 p.m. ET after FBI and hundreds of police officers had virtually shut down most of Boston to conduct a frantic search for Tsarnaev.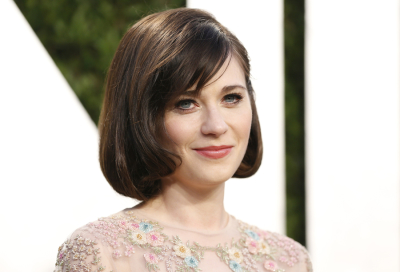 Earlier on Friday it was reported that Dzhokhar's elder brother, 26-year-old Tamerlan, had been killed after a dramatic police chase and shootout with authorities.
The brothers were believed to have shot and killed an MIT campus police officer, Sean Collier, and hijacked an SUV on Thursday night.
They were said to have been pursued by police, and reportedly shot and threw explosives at officers chasing them.
Tamerlan was reportedly injured in a resulting shootout with police and was run over by his own brother, Tsarnaev, as he made his getaway.
Tamerlan later died from his injuries, where as Tsarnaev went into hiding, not being found until late on Friday night when he was found hiding in a boat in Watertown.