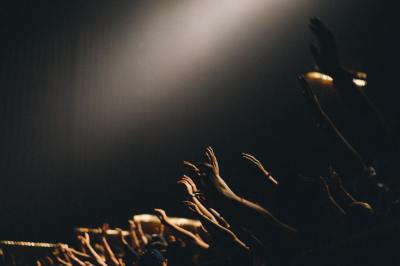 I believe that God is calling American families to become a very unique breed of home missionaries. For every revival that you read about in Christian literature or see on Christian television, I believe that there are multiple additional cases where God through His Holy Spirit showed up in an escalated manifestation. These outpourings were similar to the ones that explode into community wide revival, but died on the vine because the people of that particular church were not ready for God to show up in such a dramatic fashion.
I believe the Spirit of God wants to call forth some families across this country to join a movement of believers who will step up during an altar call and say to their pastor, "Pastor as for me and my house, we commit our lives to get ourselves ready as a family for revival.
The pastor of my home church in upstate New York is Rev. Joe Chamberlin. Pastor Joe is an ordained minister in the Assemblies of God and traveled for many years as an evangelist/revivalist and has pastored several churches. Rev Chamberlin's father was a pastor and he and all three of his brothers are in full time ministry.  When I met him, he was the liaison for the New York District Evangelists, of which I was then a member. I consider it an honor to serve now with him as a parishioner in his church.
Pastor Joe believes with all of his heart that revival is coming to our church and will subsequently affect our whole region. What he teaches us as a church is; "You cannot create a revival, but you can miss it by not preparing for it! You have to prepare for revival!" Based on his teaching and my own conviction, I feel God is challenging me to put out this clarion call to the families of the churches of this nation.
Revival hit Pensacola Florida in 1995 and a couple of years later I had the privilege to attend a conference in which John Kilpatrick, the pastor of the Brownsville Assembly of God church spoke. He told us that as God poured out His Spirit and revival hit Brownsville, thousands came to Christ over a few year period. He shared with us that the church was running about six hundred when the revival hit. Sadly he then shared with us that about two hundred people left the church when the revival broke out.
However as Pastor Kilpatrick spoke to the few hundred pastors and Christian leaders in that conference that day, he said he was so blessed and impressed by the commitment of the rest of his congregation to step up to a huge responsibility. They almost tirelessly cared for the needs of these thousands of visitors who came from all over the world over the next couple years. For a long time services were held seven nights a week and Sunday mornings. Finally some of the leaders began to seek the Lord concerning taking a night off. They were literally concerned that it might grieve the Spirit of God away if they shut down for one night. It was then decided with God's affirmation that they would take one night off for the working volunteers to take care of their needs at home. God then continued to show up in powerful ways as He did before.
Another similar thread emerges when we study the life of Kathryn Kuhlman, a healing evangelist, who filled large theatres and coliseums for divine healing crusades. During her meetings she used to admonish with great gentleness her crowds to enter into the holy hush present, and to guard their hearts while there from any inappropriate thoughts or attitudes that might grieve the Holy Spirit away that night. She understood that while the Holy Spirit is powerful, He is also so gentle and so easily quenched or grieved that we have to be very reverent and obedient to His leading. We are warned in Ephesians 4:30 to not grieve the Spirit of God. In 1st Thessalonians 5:19 we are also told to not quench the Holy Spirit. Its possible in a church for just a few families that are not ready, and have not prepared their heart for revival that their grumbling and complaining about extra services might very well grieve the Holy Spirit and kill a move of God that potentially could have impacted thousands.
Fathers and mothers I encourage you to do a family night. Perhaps you might consider preparing ahead of time the evening by securing some DVDs on what can happen when revival hits if we will let it. "Transformations" by the Sentinel Group is a very powerful movie on the subject of revival. It can be viewed at  https://www.youtube.com/watch?v=u_Th6Trn1sc. This movie is based on true stories of modern day revivals which have changed entire towns and cities. You could make this a matter of prayer by your family to say "Lord please make us ready for revival."
Pastors, I suggest that you consider promoting this idea in your churches. Perhaps you could have some tee shirts made up that simply say in a fun font. "I am ready!" Maybe you could highlight the topic for a few Sunday mornings and then in its conclusion ask that individuals and families that would like to take this step to come down to the altar and make a public profession of commitment to "Be ready" if the Lord shows up in a mighty way in your church at any given service. Believe it or not many revivals start up just that way. Too often though, churches are unprepared.
If we could just, figuratively speaking light a candle, then another, then another until this vision catches on it would be like hanging a huge invitation up addressed to the Lord saying "Here we are Lord use us!" It might just be the spark that ignites one of the biggest revivals in American history, one we need desperately!
Rev Nolan J Harkness is the President and CEO of Nolan Harkness Evangelistic Ministries Inc. since 1985. He spent most of his adult life working in youth ministry. He also felt the calling of Evangelist/Revivalist and traveled as the door was open holding evangelistic meetings in churches throughout the Northeast. His website is www.verticalsound.org.