Beyond Holiday Cheer: Supporting the Widows in Your Church During the Holidays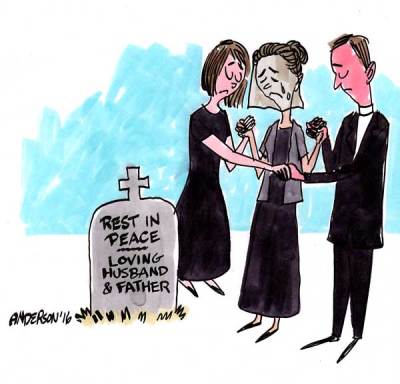 The holidays are a time for celebrations, special music, presentations, and parties. Churches decorate and plan special events for all. Almost. Holidays can be harsh times for those suffering loss, especially widows. If you have a thriving widows' ministry, I applaud you. If not, consider this: we lose 75 percent of our friend network with the loss of our husband and our family tree shakes, sometimes crazily. This is a season we need you more than ever. Let me help you help us.
Please know I realize that staff and volunteers are stretched thin. Can your church add yet another focus this season? Any small outreach will be greatly appreciated! And I can promise you God's blessing and added comfort beyond measure for any effort you extend to help widows through this season.
Let me offer a few suggestions, some quite simple, that I've learned from my own experience and those shared with me through widowconnection.com. Choose what matches the needs in your church. Yes, my list is extensive. Simply pick what you can implement realizing a small beginning is better than nothing.
Encourage those who know us to intentionally reach out. We feel alone, even forgotten. We need connection, especially during this season. Recognize our tendency to withdraw when we're supposed to be "merry," and we're not feeling it.
Invite us to anything. Be specific. For example: "Do you want to go with me/us (date and time) to the new Arboretum exhibit, new breakfast restaurant?" Our calendars are emptier than we could have imagined.
Ask if there is anything in particular we'd like to do with someone joining us. Just keep asking and inviting even if we're not ready or able to accept that invitation yet. It's nice to be asked.
It's OK to say that you just don't know what to say to encourage us. That's much better than saying "I know how you feel... my cat/dog/goldfish died last year..." (Yes, we hear the strangest things!) It's better than when a distant relative says, "Yes, I miss him too."
Please say "I remember." We love to hear tender, funny, and just interesting things from your perspective about the person we lost. Tears are good things when shared.
If you do not have a widows' ministry, offering a Christmas brunch might be a good way to start. Keep it lighthearted and include humor. We need it. A good approach is for a friend or relative to invite the widow and to accompany her. Yes, it's hard to walk in that door alone.
Any small gift is appreciated. I received a small poinsettia and loved it. A book, flavored tea—these tokens mean we're not forgotten.
Make sure we are not sitting alone at any event. It takes us time to find where we "fit" again. Usually we do not want to sit where we did with our husbands.
Don't assume that it's a "busy" season and not a good time to reach out. Loosing typically 75 percent of our friend network means we are not included in most of the things we did as a couple. Holiday seasons are lonely. Remembering what used to be and is not sometimes results in vulnerability and filling the void with the wrong thing or wrong people.
Don't assume family will fill the holiday void. Our family tree has been shaken. We're trying to decide whether to follow previous traditions. Typically family members disagree. In fact, we may need a listening ear to guide us through the upheavals in our family relationships.
Some of the loneliest widows in the church are those whose husbands were in leadership. Deacon, board member, class teacher, administrator or pastor, his role became the social framework for his wife and a connecting friendship. Invite this woman to your holiday gathering that first year though she's single now. Yes, she will appreciate being asked. A few tears may be shed. Embrace her. She needs to know that you value her.
One church placed a special Christmas tree in the foyer. Simple plastic ornaments in the shape of doves were provided as well as markers for writing on them. Any person could take an ornament, write the name of the person he or she lost that year, and hang the ornament on the tree. After the season, each could take that ornament home. I still have mine 11 years later and hang it on my tree every Christmas.
If you have a care team, now is a good time to share this information so they can be intentional and appropriate as they reach out to us. Much of this applies to those who have experienced other losses too.
These suggestions and ideas may seem mundane and small but they're really not. We often feel invisible and voiceless. You are demonstrating to us that you care, you remember, and still value us in our widowhood.
After the holidays, follow up. Learn what was helpful and survey our ongoing needs. You'll be addressing our actual needs, rather than what you think we need.
This effort may be the beginning of expanding your ministry to widows. We have resources on widowconnection.com for training and getting started. We've discovered that it's often other widows who are willing to step up, lead, facilitate, and bring great comfort to those on the same path.
Access my article, "7 Reasons to Start a Widow's Ministry in your Church (and how to begin)" at Preaching.com. We're here to come alongside you, give you tools, and cheer you on.
We know that within the first year of widowhood, half of those women are no longer in the church they attended with their husbands. Offering connection not only changes that, it's God's mandate (James 1:27).
I'm humbled remembering that Jesus' first disciple was his mother, Mary. She knew who He was before He was born. She heard His first breath and His last. One of His last acts on the cross was to look down at His widowed mother and to provide for her. He asked His closest friend, John, to care for her. This holiday season is your chance to do just that.
References from Not Alone (Regnery, 2017) and From One Widow to Another: Conversations About the New You (Moody Press, 2009). Used by permission.
Miriam Neff is the founder of Widow Connection and author of Not Alone: 11 Inspiring Stories of Courageous Widows from the Bible.