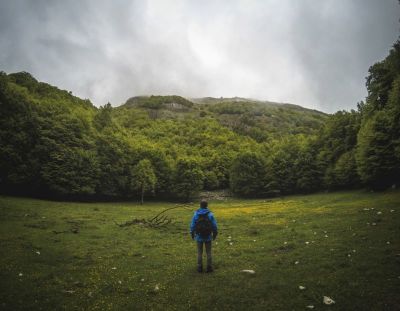 Can a man hinder God? Can he hinder the God who is Creator of the Universe and the all seeing, all knowing, ever present true and living God? Could he possibly hinder the One who was and is and always will be? Is it possible to be a person or part of a group of people who either slows down God from working, or stops something that He wills from ever being accomplished? What we are about to discuss in this article may surprise you.
Psalms 78 (KJV) is a very powerful chapter of the Bible. It is a reminder of God's goodness to Israel. It is also a warning not to be like their fathers who were a stubborn and rebellious generation; a generation that "set not their heart aright, and who's spirit was not steadfast with God. The chapter goes on to tell the story of all that God did for the children of Israel as He delivered them from Egypt. It lists each of the miracles that they witnessed and the chapter sternly points that even though God did all these things they continued to harden their hearts and did turn not away from their sin. It then beautifully shows how in verse thirty-eight that God being full of compassion forgave all and did not destroy them.
The chapter is like a song building to a climatic explosion of a truth. It seems to say over and over, in all of this, yes in all these wonderful things something happened. The building up and reaching higher to a central theme pinnacles in verse forty-one, with this; "Yea they turned back and tempted God and limited the Holy One of Israel!"
Have you ever wondered if in all your praying and thinking, and seeking if you may have missed God? Perhaps you even know you did? I want to assure you today that 1st John 1:9 (KJV) says; "If we confess our sins God is faithful and just to forgive us our sins and to cleanse us of all unrighteousness." My heart purpose is not to deal with anything in anyone's past, but to challenge us to seek Him more diligently concerning His workings in our future. What's done is done. God is the God of the second chances and the third and so on. It is not that we should ever take His callings lightly. We need to realize that our Heavenly Father chalks up to "on the job training" things we have done because of our spiritual immaturity or ignorance.
Why do you think Jesus who was God in the flesh, in what we know as the Lord's Prayer (Matt. 6:9-13), prayed for the Father's will to be done on the earth? Why would God have to ask God for anything? One reason was that He was demonstrating the how to, and also the need for prayer. The other, I believe is because He knew as sad as it is, that the Father's will is not always done. "Thy will be done on earth as it is in Heaven". You see God's will is always done in Heaven but in this world, steeped with distractions and lives lived apart from God, more often that not, it is "Lord not thy will but my will be done"!
I can remember the first time I saw an edition of "Self" magazine. My heart sank, but then I realized that self-centeredness was the way the world was going. We were headed there faster than anyone realized. For example in our American society volunteerism is now at an all time low. Any organization, from volunteer fire fighters to bell ringers for the Salvation Army struggle to have enough people to cover their necessity for workers not to mention today's churches, struggle to have enough to serve their needs.
Can we hinder God? Oh yes and even a casual reading of the scriptures will realize the stories and doctrines over and over again teach of the failures of the foolish and exhort and commend the selfless righteous deeds of true believers. As we grow in understanding yes we realize that God sometimes has certain sovereign plans and designs that have little to do with us, or our cooperation. It is just a big zap and he does it, or its a gradual working out of multi purpose structure by the Master Architect for his time altering Kingdom building expansions. We just stand back and say; "WOW"!
So how do we hinder God? Sometimes it is because of our unbelief. Jesus visited his home area in Mark 6:5,6 (KJV); "And he could do there no mighty work, save that he laid his hands upon a few sick folk, and healed them. And he marveled because of their unbelief. And he went round the villages teaching." Sometimes we see a need but fear keeps us from accomplishing anything helpful.
Then there is probably the biggest hindrance of all tradition. Jesus in strong rebukes to the Scribes and Pharisee's in Mark 7:13 (KJV) states; "Making the Word of God of none effect through your tradition, which ye have delivered: and many such like things do ye". We often put more time and money into our traditions than we do into seeking the will of God. Anything we do every year that does not require prayer probably is a tradition!
Over the years I cannot tell you how many financial planning meetings I sat through, as we were looking at the monies available for the youth. It was very common for big funds to be spent on sound systems, remodeled fellowship halls, and grand pianos. However so little spent on pursuing teenage souls. In the public schools the teens go into each day they had the newest of everything. Yet we were trying to invite them to a weekly youth programs with broken couches, old VCR recorders and twenty year old TV sets.
Hmmm, can we hinder God? Lord please show us our hearts today!
Rev Nolan J Harkness is the President and CEO of Nolan Harkness Evangelistic Ministries Inc. since 1985. He spent most of his adult life working in youth ministry. He also felt the calling of Evangelist/Revivalist and traveled as the door was open holding evangelistic meetings in churches throughout the Northeast. His website is www.verticalsound.org.