4 horsemen of the apocalypse? Not yet, but another disaster is coming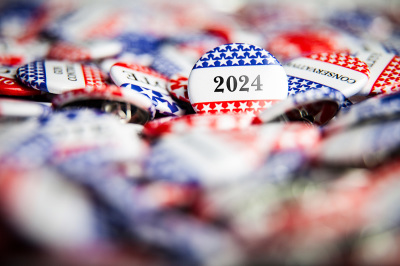 With respect to national leadership going forward, it is time to face a hard fact: the United States needs a miracle.
The Four Horsemen of the Apocalypse are yet to be revealed, but the three riders of political disaster are already before us as the pace picks up for the 2024 election.
Dementia-Senility, cluelessness, and hubris gallop into view. With every sighting, the need for a miracle becomes increasingly evident as the major candidates for the presidency and vice presidency come closer. Joe Biden, in the view of many, is astride the horse of dementia-senility. Kamala Harris is in the saddle of the steed of cluelessness. Donald Trump is mounted on the stallion of hubris.
There are and will be others, but these are the ones now kicking up the most dust. God help us.
Joe Biden is to be understood and pitied, having lost a wife and young children tragically. One would think it would take a lifetime to get over such grief — if ever. Now this heart-breaking past is mingled in President Biden with the challenges of old age (I understand those challenges well at age 81). The positives of aging can be, among others, wisdom, and experience. However, old-timers must be honest enough to recognize that they may distort the past or forget the consequences of bad decisions in earlier life. If Biden wins the presidency in 2024, he will need all the wisdom he can muster since he would be the oldest elected president in American history.
Vice President Kamala Harris too frequently seems to be thrust into roles for which she has no preparation — like Biden's appointing her as "czar" of migration in this season of unprecedented turmoil at the nation's southern borders. True or not, she has come across as being clueless as to what to do about that staggering problem. Harris did not help herself by going to Atlanta for a political fundraiser just as migrants pressed in on the country's gates, awaiting the end of Article 42, and the near obliteration of the boundaries. "Kamala Harris is to hit Dem Soiree as Title 42 lifts," shouted a headline in the New York Post.
Then there's the case of another 2024 candidate, Donald Trump, who seems to have a serious case of hubris, the belief that one is invulnerable and above the clutch of past actions and mistakes. Hubris is a case of intense arrogance.
It is true that there are no perfect people and hence no perfect candidates. We must carefully consider the temperament of Candidates and the impact of their personalities on decisions they might make if they win office.
Dementia-senility can bring confusion and serious forgetfulness, a loss of focus, and emotional control, to name a few of the symptoms. These are not the attributes fit for confrontations with the tyrants and shrewd overlords of the present world disorder.
Cluelessness dims the ability to see through subtleties and propaganda. It blocks leaders from understanding what is really going on. In a national and international scenario populated with crafty masters of bait and switch a clueless national leader can be snookered easily.
The chief of state suffering hubris is prone to take risky actions. He or she underestimates threats on the one hand or, on the other, overestimates his or her own ability to knock out the adversary. This is scary stuff in a nuclear world. While John F. Kennedy might have been afflicted with hubris, nevertheless in the Cuban missile crisis in 1962 he had sufficient intelligence to know the Russians were not likely to ignite a nuclear war. His successor, Lyndon Johnson demonstrated a high degree of hubris about Vietnam, and he underestimated the determination and ability of the enemy in continuing to fight. Fifty thousand American lives were snuffed out because of the continuing miscalculation on the part of both Johnson and Kennedy.
Nixon demonstrated cluelessness regarding the Watergate scandals that brought down his presidency. As a low-level member of the White House staff in that era I knew of aides who urged the president to take the initiative to reform his campaign organization and take full responsibility for ridding it of dirty tricks and questionable strategies. Because higher-level staff prevented those exhortations from going into the Oval Office, or because of Nixon's own choices, his presidency was brought down.
Gerald Ford, Nixon's immediate replacement upon his resignation from the presidency, lost the election to a full White House term by revealing during a debate that he was clueless regarding the extent of Communist control in Eastern Europe.
And then there was the striking hubris and cluelessness of Bill Clinton's abuse of the Oval Office as a hideaway for his sexual escapades. In that, Clinton was following in the steps of Kennedy and who knows who else?
The bottom line: Voters must go beyond soundbites and appearances from candidates and look deeply into their characters, temperaments, and records.
The national and world scenes are far too delicate to be handled by a president whose age prevents him or her from taking reasonable approaches to crises, or so clueless that he or she cannot discern what is really going on behind the charade by which shrewd enemies conceal the facts, or national leaders who suffer from hubris so great that they overestimate themselves and underestimate their enemies.
The imperative: Pray for a leadership miracle for the United States in 2024.
Wallace B. Henley is a former pastor, daily newspaper editor, White House and Congressional aide. He served 18 years as a teaching pastor at Houston's Second Baptist Church. Henley is author or co-author of more than 25 books, including God and Churchill, co-authored with Sir Winston Churchill's great grandson, Jonathan Sandys. Henley's latest  book is Who will rule the coming 'gods'? The looming  spiritual crisis of artificial intelligence.