Is the Church a sleeping giant on abortion issue?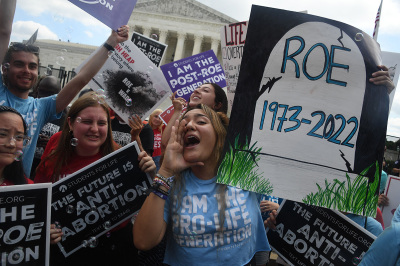 Every beat of the human heart is a gift from God. Our founders said in the Declaration of Independence, America's birth certificate, that it is "self-evident" truth that we have been endowed by our Creator with unalienable rights. The first right they listed, of course, was the right to life.
But in our day, abortion is a direct assault on that right to life. I am grateful that Roe v. Wade, the infamous 1973 Supreme Court decision that ushered in abortion on demand in America, has been overturned. Because of this, 60,000 babies have been saved so far. Tragically, Roe caused some 66 million unborn babies to have had their lives snuffed out before they were ever born.
There are many pro-life ministries that God has raised up to address the abortion issue, including crisis pregnancy centers, which provide a loving alternative to abortion.
In May 2022, the draft of the June Dobbs v. Jackson decision that did overturn Roe as unconstitutional was leaked. Since that leak, the source of which has never been revealed, there have been some 87 attacks against pro-life ministries, such as crisis pregnancy centers. Pro-abortion forces have also attacked many pro-life churches as well.
The Biden Administration's Justice Department and FBI don't seem very interested in addressing these attacks. Maybe that's because they are too busy sending out body-armor-clad and long-gun-equipped agents to arrest peaceful pro-life activists like Catholic writer Mark Houck — in their homes and in front of their kids.
Love Life is a pro-life ministry, that, in the words of the Rev. Frank Trotta, a director for the chapter in South Florida, "serves the local church to awaken the church to the reality of abortion in their city. In doing so they help mobilize the body of Christ to 'Love God and Love neighbor,' by being a peaceful, prayerful presence at the abortion centers."
As an associate minister in a local Presbyterian church in south Florida, I was privileged to speak on two separate Saturday mornings to address the abortion issue. These short speeches took place in a church parking lot, and then about 30 of us or so (including a handful of our church members) walked over to the abortion clinic a few blocks away.
In front of the clinic, we peaceably assembled to pray about the matter of abortion. Our first prayers were offered up on behalf of the owner of the clinic and their medical personnel — that God would open their eyes to see the error of their ways and repent.
There are many in our time who have left the abortion field because their eyes were opened to the grisly work, they have been doing in killing these unborn babies.
In fact, a former Planned Parenthood Employee of the Year (2008), Abby Johnson, a former clinic manager for the abortion giant, became instantly pro-life when she saw a sonogram of a 15-week-old boy being aborted in her own clinic in Bryan, Texas, in 2009.
Fast forward to today, Abby Johnson, the author (along with Cindi Lambert) of Unplanned (with both a book and movie of that title), has begun the ministry, And Then There Were None. This work helps those involved in the abortion business to leave that business and settle in some field that "does no harm." Some 650 former employees have walked away from the abortion industry.
We also prayed for the mothers considering abortion — praying that they won't go through with it. But if they do, that they would find God's forgiveness and healing for their souls. And we prayed for the church throughout the land to arise even more and address this evil of abortion.
I once interviewed Justin Reeder, the founder of Love Life for Truths That Transform, the weekly television show from D. James Kennedy Ministries. He told our viewers: "The whole mission of Love Life is to unite and mobilize the church to create a culture of love and life that would result to an end to abortion."
One of those who is out there on Saturdays to intervene on behalf of life is Darci Schattinger. She knows firsthand the pain of abortion because many years ago, she herself had one. But later, by the grace of God, she found healing through the Gospel of Jesus Christ.
So far Love Life is in 17 communities, including South Florida. Lord-willing, one day it will be in all 50 states.
The Church of Jesus Christ, in its various branches, is often on the front lines in the abortion issue. And yet in some ways, the Church is like a sleeping giant on this issue. It's gratifying to see ministries like Love Life, trying to arouse more and more elements of the sleeping giant.
Jerry Newcombe, D.Min., is the executive director of the Providence Forum, an outreach of D. James Kennedy Ministries, where Jerry also serves as senior producer and an on-air host. He has written/co-written 33 books, including George Washington's Sacred Fire (with Providence Forum founder Peter Lillback, Ph.D.) and What If Jesus Had Never Been Born? (with D. James Kennedy, Ph.D.). www.djkm.org?    @newcombejerry      www.jerrynewcombe.com