Learning not to be defined by your problems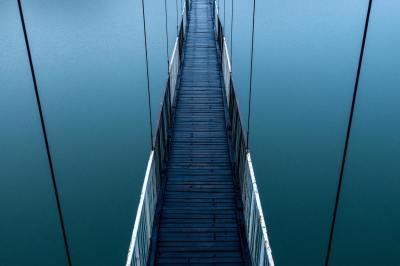 Poor Job! When his friends looked at him they wanted to cry. All they saw were his losses, his loneliness, and his pitiful condition. When his name arose in conversation, it was in connection with his problems. When people prayed for him, it was due to his disasters. In the streets, people sadly shook their heads from side to side and clicked their tongues and said, "How awful." 
Job was on the verge of being defined by his problems.
But even at his lowest moment, this man wasn't about to let that happen. Job never lost faith in God, and he never totally faltered in his determination to let the Lord redefine his life by the touch of sovereignty. The book of Job teaches us a powerful lesson: We must never allow our problems to define us. We must let God define us by how we handle our issues—and by how we let Him deliver us.
Problems Should Not Define Us
The story of Job opens with a volley of satanic attacks. In the span of a few hours, Job lost all his possessions, his flocks, his herds, his livelihood. His employees were slain. His children perished in a weather-related disaster. Then his health broke, and his whole body erupted in boils. When he began that day, his sun was shining brightly, but by sunset of the next day his life was shattered and as dark as a cave without a candle.
Without God's hedge around us, we're defenseless against Satan. The devil prowls around, seeking to destroy us. We have a God who shields us, for Christ prayed for our protection from the evil one (John 17:15). Yet we do face problems. 
Job's problems are so dramatic because his prior days had been so idyllic. There are two fascinating chapters in this book—Job 29 and 31—in which Job grew reflective and recounted what his life was like before his disasters. His life had been watched over by God (29:2), and God's intimate friendship blessed his home (29:4). Job spoke of the respect given him by city leaders, both young and old; who stood when he entered their presence (29:7-9). He spoke of helping the poor and the fatherless (29:12). When someone in his town died, he was at their bedside, giving words of comfort and spreading reassurance to the mourners (29:13). Job was burdened to help the blind and lame, to provide for strangers, and to rescue victims (29:15-17). People sought out his advice and followed his counsel (29:21-25).
Job had also cultivated a reputation for personal purity and upright morality (31:1, 9). He had a strong sense of social justice (31:13-14), and he was generous in providing for those in need (31:16-19). Though he was wealthy, he didn't want his money to define him. He said he had never put his trust in gold or rejoiced over his fortune (31:24-25).
Job had spent his entire life seeking to live a life defined by grace; but now when people thought of him, they remembered none of those things. They thought only of his mountainous misery, and he was in danger of being forever defined that way.
Job could have been defeated by his problems. His wife encouraged him to "curse God and die" (Job 2:9). As low as he was, he refused to do that, knowing it would lead to his total emotional and spiritual collapse. Job responded, "You speak as one of the foolish women speaks. Shall we indeed accept good from God, and shall we not accept adversity?" (Job 2:10)
If Job had given up in disillusionment, his legacy would have been cursed with the stain of calamity, like a Shakespearean tragedy, such as Hamlet or Othello or Macbeth, or like an old black-and-white film noir. 
That's what happens when we sink into despair. It doesn't take the problems of Job to define, defeat, or disillusion us. Everyone faces trials and tribulations, and sometimes tragedy comes calling. Every life has some tough moments, but we don't have to let those burdens define our lives, determine our responses, or characterize our future.
Bryan Anderson, an Iraq War veteran, is one of the few triple amputees to have survived his injuries. In October 2005, he was injured by an Improvised Explosive Device, losing both his legs and his left hand. In his book, No Turning Back, he wrote, "I didn't want people to define me by my injuries. Yes, that experience is a part of me, but it's not what I want people to remember about me. I'd prefer they know me by my accomplishments, my actions, and my words."
Only God Can Define Us
That was Job's attitude too, and so he never abandoned his faith in God. He knew God could be trusted, and in one of the rawest statements of faith in the Bible, he said, "Though He slay me, yet will I trust Him" (Job 13:15).
He knew that God is eternal and that our life on earth is momentary when compared with the glories to follow. In Job 19:25-27, he said, "For I know that my Redeemer lives, and He shall stand at last on the earth; and after my skin is destroyed, this I know, that in my flesh I shall see God, whom I shall see for myself, and my eyes shall behold, and not another. How my heart yearns within me!"
Job also grasped something of the sovereignty and omnipresence of God, that God is always present though we may not see Him and always in control guiding us. He wrote, "I go forward, but He is not there, and backward, but I cannot perceive Him; when He works on the left hand, I cannot behold Him; when He turns to the right hand, I cannot see Him. But He knows the way that I take; when He has tested me, I shall come forth as gold" (Job 23:8-10).
Job also knew that his God was a Shepherd who knew his name, guided his steps, and sustained him with powerful words. "My foot has held fast to His steps," Job wrote. "I have kept His way and not turned aside. I have not departed from the commandment of His lips; I have treasured the words of His mouth more than my necessary food" (Job 23:11-12).
When we focus our eyes on God and treasure His words more than our necessary food, our problems can never define us, for our lives come into definition by the lens of God's grace and glory. 
Do you know what the New Testament authors thought of Job? The writer of the epistle of James didn't define Job by his problems but by his perseverance, saying, "My brethren, take the prophets, who spoke in the name of the Lord, as an example of suffering and patience. Indeed we count them blessed who endure. You have heard of the perseverance of Job and seen the end intended by the Lord—that the Lord is very compassionate and merciful" (James 5:10-11).
Job persevered, and God was glorified for being compassionate and merciful.
When people think of our names, let's make sure they don't define us by our problems, but by our perseverance and by the God in whom we trust. Shift your focus from the hardships of life to the faithfulness of your God.
Let "Faith" be your middle name.
Dr. David Jeremiah is among the best known Christian leaders in the world. He serves as senior pastor of Shadow Mountain Community Church in El Cajon, California and is the founder and host of Turning Point. Turning Point's 30-minute radio program is heard on more than 2,200 radio stations daily. A New York Times bestselling author and Gold Medallion winner, he has written more than fifty books.