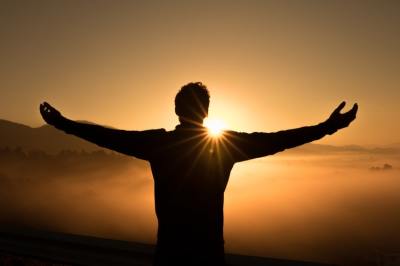 Personally I experience a check down in my spirit every time I hear the phrase "unconditional love". I'm discovering that other people are also experiencing something simular. It's as if "God's Holy Spirit alarm", which has proven to be so faithful to me for so many years, goes off inside me every time I hear it. Many times the gentle tug of the Holy Spirit is all the warning we will receive when something is amiss. It brings to mind the Proverbs 22:3 warning; "A prudent man foreseeth the evil, and hideth himself: but the simple pass on and are punished"! Proverbs 22:3 (KJV)
In "Part 3" of the series we looked at the fact that the word "agape" was perhaps unknowingly mistranslated to mean "unconditional love". After all, it sounded so good and so right. On our study shelves many of us even had "Vines Bible Dictionary". This dictionary has been used worldwide for decades. It states clearly that "agape" love is a love of mercy, and an "undeserved love"! However, along came the subtle misinterpretation and being a nation which has "itching ears" for new truth, we swallowed it hook line and sinker.
In the last article we referenced the dialogue between Jesus and Peter just prior to His ascension. We are comparing the fact that nineteenth century theologians believed Jesus first used "agape", as a common love of compassion or mercy. They further believed He used the "philo" love, to mean a love of intimate and lasting loyalty and friendship. It involved sanctification and the love obtained by maturing Christians. We showed a couple of examples where "agape" just could not be "unconditional love" because it just doesn't fit. Lets now look at some other examples of how the "philo" love fills our mysterious gap, a void, which is only met when we experience God's deeper love, and when we feel that same love for Him.
Jesus said in Revelation 3:19; (KJV) "To as many as I "philo" (love) I chasten and rebuke; be zealous therefore and repent"! When the Holy Spirit opened this up for me, it was the bedrock of truth that sealed the deal. To me the Spirit of God seemed to expound upon Jesus' words this way; " Hey, all of you who really love me with a super closeness, in a deep intimate friendship that we have grown into, a love like Jonathan and David had, a love until the end. Because you are so special to me, I will like a good coach or true Father chasten and rebuke you. So let's get it together people. Be continually zealous towards me and repent of even the smallest sin I reveal to you. We are so close now. Let me get you ready for my service! Let me get my Bride ready for my soon return"!
Six times in the Gospel of John we see the phrase "The disciple that Jesus loved!" (John 13:23, 19:26, 20:2, 21:7,20,24). For years the "unconditional love" crowd has not known what to do with these verses. Because guess what, seekers of truth? The word for love here is "philo"! Philo you see, is the more intimate relationship with Jesus!
Did the nineteenth century Christians have it right? Hundreds of thousands of people came to Christ at that time and it truly changed the course of this nation. The way they interpreted scripture showed up in their passionate sacrificial love for Christ. Unlike today, their Christianity was not a "one size fits all" template. A believer was encouraged into the "good works" that James talked about. James said in 2:18b; "I will show you my faith by my works. They believed in a God of Conditions!
In modern day Christian-dom, steeped in the "unconditional love" teaching, finding volunteers in the church is harder than ever, because this narcissistic doctrine gives the lazy a pass and puts the normally hard workers in numbness. After all if, as one radio tag line I recently heard says, "God couldn't possibly love you any more than He already does!" Then why work for Him? Again a wonderfully sounding slogan, how does it line up with such scriptures as is found in 2nd Thessalonians 1:5b: "..that you might be counted worthy of the Kingdom of God!" Or does it line up with this scripture? "His Lord said unto him, Well done, thou good and faithful servant: thou hast been faithful over a few things, I will make thee ruler over many things: enter thou into the joy of the Lord". Matthew 25:21(KJV): Why would Jesus say well done unless there was something we have to do?
If, God forbid, an "unconditional love" bible was ever written it would be much shorter. It would just say (in great error I might add), "His Grandpa god said unto him: "Come on into Heaven as I have loved you unconditionally since the day you were born." They could cut out completely Romans chapter One on the basis of all sin and 1st Corinthians 6:9 that has a sin list wouldn't need to be there. All the parables and teachings about demons and hell that Jesus spoke more on proportionately than He did about angels and Heaven that could all be cut out also. Sermons could be much shorter and there would be no need for Sunday School because there is so little we have to learn from that bible! The saddest thing of all is that there would be no need missionaries or any soul winning. Oh wait a minute we are actually doing that one right now! We are so deceived as a church in America and some parts of the World. This extravagant sarcasm exposes such last days teachings.
I walked once into one of the Main Line denominational churches in Atlanta, Ga. They had a huge poster in their classroom area of their basement. It read; "All the World is Born Again"! How misguided! May God raise up seekers of His Truth!
Rev Nolan J Harkness is the President and CEO of Nolan Harkness Evangelistic Ministries Inc. since 1985. He spent most of his adult life working in youth ministry. He also felt the calling of Evangelist/Revivalist and traveled as the door was open holding evangelistic meetings in churches throughout the Northeast. His website is www.verticalsound.org.