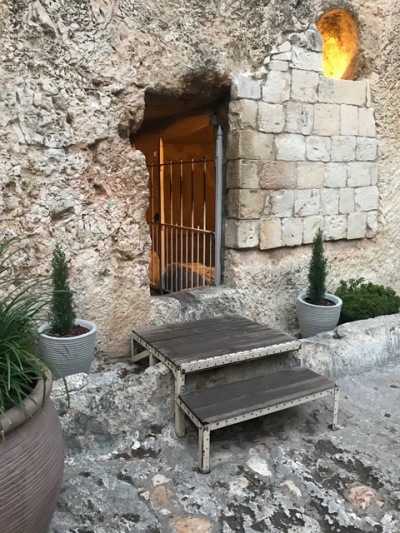 It was late afternoon in Jerusalem. Low clouds seemed to be burdened by a pending rain. But in the garden, the overhanging branches of the trees were like umbrellas stretched over the pathways. A small crowd was inching along the path to the tomb.
Not just any tomb, but the one that many scholars agree is where Jesus was placed after his crucifixion.
Even with a small crowd of people, it was so quiet. Our lowered voices made a gentle sound in the area around the tomb. I closed my eyes and just listened.
I'm not a world traveler—but here in Jerusalem, just outside the tomb, I heard French, German, and Spanish visitors. But there were other languages I'd never heard before. As we waited for our turn to go into the tomb, I looked at my fellow travelers. Different cultures and languages, but one faith. The Bible talks about every nation and every tongue—and I felt it here.
Even though we couldn't understand one another, we were sharing a moment we'd hold close to our hearts forever. We'd travel back to our native lands, and this side of heaven probably never see one another again.
Why did we come? To see an empty tomb.
That's Christianity and the Easter story in two words: empty tomb.
As I took my turn walking into the empty tomb, it wasn't about what I was seeing, but knowing that because of Jesus, death no longer has the final word. He lives, and so can we.
Blessed Resurrection, my friends.
Until we see him again, we have His promise: "I leave you peace; mypeace I give you. I do not give it to you as the world does. So don't let your hearts be troubled or afraid. John 14:27
Karen Farris served in the crisis pregnancy ministry — traveling thousands of miles and speaking to over 10,000 students about their life choices — for nearly a dozen years. She became a grant writer and helps find resources for projects that serve those in poverty, mainly children. She's been a blogger since 2010 — 
Friday Tidings
 — sharing stories of faith, life, and purpose to give hope in a hurting world.