Why isn't adoption a Gospel theme during Easter?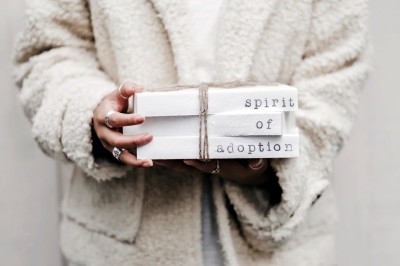 From the very beginning, Jesus is King.  He is the Author, Creator, and Sustainer of life. Jesus has always been the light of the World, but King Jesus is not like the dictators or the self-exalting power broker leaders of today. Our Savior is a humble, servant King.

Jesus emptied Himself for us. He laid aside His privileges and came as a bondservant to serve man. Jesus was humbled on the cross and met the ultimate humiliation in His death. He accepted death humbly yet defeated it victoriously. The example of Christ should fuel us to be humble, sacrificial servants towards our family, our neighbors, the orphan, and the vulnerable, because even in the exaltation of Jesus, He remains the model of loving service to God.

Therefore, as we celebrate Easter, we are humbled that Jesus came to suffer like us. He humbled himself in the likeness of man. He became a baby — dependent and needy. He lost greatly for our sake. However, not only did Jesus come to experience our pain, He came to bear our punishment and to die in our place so that He could free us from slavery and sin. Our true hope is not found only in the cross, but in the empty tomb. Jesus' victorious resurrection seals our hope and righteous standing before our Holy God.

The Apostle Paul celebrated the resurrected life in Christ with this metaphor in Romans 8:15: "For you did not receive the spirit of slavery to fall back into fear, but you have received the Spirit of adoption as sons, by whom we cry, 'Abba! Father!'" (ESV).

Every life matters to the Lord, so much so that God gave His one and only Son to adopt us and give us the privilege of calling the God of the universe "father." We have been so lavished in love by God our Father through adoption as sons, so we in turn show that same love to vulnerable women and children and orphans around us by caring for them physically in their need, while not neglecting to make the Gospel known in word and deed.

For every other great leader in the world, death ended their mission, leadership, and calling. On the contrary, Jesus' mission was to die — to die for the sins of the world and to give His life as a ransom to free us.

Jesus came to love and to show us what real love is all about. According to Jesus, to become great, you must become a servant. To be first, you must become last. Leading by love and sacrificing yourself for the sake of others, is how Jesus taught us to live.

Rightly, Easter brings reflection as we explore the depths of the Gospel as revealed with the completion of Christ's earthly mission. In the resurrection, we are led to understand the power and authority of Jesus to restore that which is broken by sin and to, as Sally Lloyd-Jones has so aptly penned, "to make everything sad come untrue."

One evil that we have seen become a little closer to untrue since last Easter is the almost unfettered entitlement to abortion in America. With the Dobbs decision last June, pre-born American children are safer in their mother's wombs than at any time in the last 50 years; yet there is so much more for the Church to do.

While these little lives that Jesus died for are safer entering the world today, they are now incredibly vulnerable in the world. We celebrate their lives and acknowledge that their safe birth is not the end of our care. It is the responsibility of the Body of Christ to stand in the gap for those children and their birth parents.

For some children and their birth parents, placing a child for adoption is in everyone's best interest. At Easter more than ever, we see the necessity and benefit of adoption.

By swallowing death up in life, Jesus did everything necessary to provide for those of us outside the family of God to be brought in as sons and heirs of the Most High. The miracle of Easter paves the way for our adoption into the family of God.

Admittedly, adoption is not a Gospel theme often associated with Easter directly, but I wonder why?

What more fully encapsulates what Jesus died and rose for than our Heavenly adoption decree? And so, I think it is fitting this Easter to ponder the place of adoption in the Church and in our world right now.

On this first Easter following the U.S. Supreme Court's seismic decision to overturn 50 years of practically unfettered access to abortion, we need to be more ready than ever to follow the example of our Savior to step out of our comfort and mirror God's adopting grace by becoming forever family to children born into difficulty and distress.

In adoption, we present a picture of the Gospel to a world in need of hope, and we do important work given to us by our Father. God is a "Father of the fatherless and protector of widows is God in his holy habitation. God sets the solitary in a home" (Ps 68:5-6a).

As the Church and God's adopted children, we cannot simply rejoice over the reversal of Roe v. Wade, but we must be spurred to action to love the orphan, the single mom, the woman who made an adoption plan, the family who has lost their children to the foster care system, and those image bearers with a special need or disability. We must expand our focus on issues of life to have a whole-life message and show the world that we love pregnant women as much as we love their children, and trust that little by little the Spirit will draw more people to listen to our full message of life. When we are waiting on the other end of the maternity ward to embrace a single mom and her child, that is the moment we begin to show with our lives and actions how much we truly value life.

Please do not miss it: all these actions are not merely occasions to deal with earthly distress. They all make great opportunities for Gospel proclamation because when we love life tangibly, we receive extraordinary opportunities to speak of the greatest pro-life advocate, Jesus, the One who gave His life so that we could have abundant life.

We reflect on the fact that we have a Savior who humbled himself to serve. Out of our love for Christ, we are compelled to love others sacrificially. We enter into the messy, the broken, and the beauty of adoption, foster care, and orphan care because we are now ambassadors of Christ.  We now live with the same mind as Christ – having the same love, being in full accord and of one mind, doing nothing from selfish ambition or conceit, but in humility counting others more significant than ourselves. We look not only to our own interests, but also now to the interests of others including the orphan, the vulnerable child, the single mom, and the broken family.

This Easter, may we, as the adopted children of God, let the sacrificial nature of Christ thrust us into denying ourselves, taking up our Cross, and following Jesus into the redeeming work of manifesting the Gospel to the least of these.
Herbie Newell is the President of Lifeline Children's Services, the largest Evangelical Christian adoption agency in the United States. The organization serves vulnerable children and families through private domestic and international adoption, family restoration, and pregnancy counseling. Herbie is also the author of Image Bearers: Shifting from Pro-Birth to Pro-Life.