Your porn use reveals your unmet desires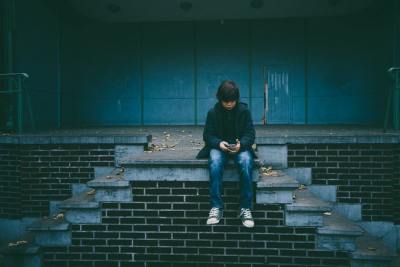 Pornography. It's an issue that few Christians seem to want to discuss, but the statistics speak for themselves: at least 91% of men have watched pornography in the last month. And it's not just the men who are looking; at least 62% of women have also viewed it within the last month. So why aren't we talking about it more?
Porn's power of temptation can feel like an external battle, but the root issue is more inherent than we realize.
All desire for porn stems from deeper legitimate longings in our life.
A longing for acceptance, attention, and affirmation can fuel porn usage, but so can their counterparts. Rejection, emotional isolation and alienation can all trigger porn usage, too.
But it goes even deeper than that.
Did you know that the type of porn that people look at isn't random? Porn use is deeply tied to their life experiences, pain and stories. Through the scenarios acted out in porn, many people are reenacting past painful experiences and looking for a different outcome in the present.
So if you're currently struggling with pornography, I want to help you understand what your specific porn usage reveals about your specific longings and desires.
Because one of the surest ways out of your struggles is to understand why you enter into them day after day.
Take it from me, a former porn addict.
In middle school, I struggled with depression, suicidal thoughts and rejection. Initially, I medicated by overeating, but I was always looking for something "stronger" to help me cope with my pain.

Porn became my "drug" of choice. I got addicted to the "high" of it. I loved the escape it provided and the sense of attention and pursual I felt from the women on the screen. But it started to affect my relationships. I began to isolate myself from friends because I felt so much shame. I felt powerless to stop. And by the end of high school, I felt completely worthless. I felt immense distance from Jesus and threw my hands up in defeat.
It wasn't until my later years of college that I learned that my porn issue wasn't just a sin issue. It was a psychological, biochemical, and neurological issue, too.
The seven longings of every person


You may have heard the saying, "No man is an island." It's true. God created us for relationships, both with Him and with others.  And there are seven primary longings that determine where we get our relational satisfaction. When these seven needs go unmet or are outright rejected, we seek to fill the voids with other things, like porn.
Acceptance. We want to be valued for who we are. We want to be loved for being ourselves. Unconditional acceptance is the foundation for any secure relationship; without it, we can feel unstable.
Appreciation. We also want to feel acknowledged and encouraged for what we do. When we feel unappreciated, we can feel disrespected, overlooked, and increasingly devalued. We can start to believe that if they don't appreciate me (my parents, coworkers, or friends), then how could God ever appreciate me?
Affection. We all need to feel worthy of people's love, time, and focus. When we lack active emotional engagement from another person — including kind physical touch — we lose the reassurance and warmth God created us to crave.
Access. When important people in our lives are accessible and available, we feel a sense of importance. Without this ability to connect, we feel alienated and unworthy, causing deep emotional voids.
Attention. We feel understood and seen when someone values our dreams, desires, needs, opinions, and interests. It's not that we need to be in the spotlight, but we need to know that we are noticed and that someone is invested in our interests. Without this, we can begin to feel that self-imposed isolation is justifiable.
Affirmation of Feelings. We all desire to have our emotions and experiences validated. When someone close to us affirms our feelings, we feel seen and understood. Without this affirmation, we can feel unembraced and overlooked.

Assurance of Safety. We desire physical, emotional, financial, and relational safety. In the absence of protection, insecurity and anxiety arise, leading us on a chase to find a fleeting moment of security.
When these seven longings go unmet, we seek to fill their voids with our own "solutions." We attempt to find acceptance, affection, safety by watching porn. And the data shows that pornography is the number one drug of choice for many of us.
Using porn to meet our longings


The more I've researched porn addiction, and the more I've worked with individuals to help them get free from it, the more I've realized how deeply tied people's porn use is to their seven longings.
So what can our specific porn selections reveal about the unmet longings in our life? And how can that understanding lead to freedom?
I'll use a friend's journey with porn as an example. When he was a child, his parents divorced, and he felt the pressure to grow up quickly and become the man of the house. Throughout his formative years, he didn't get a lot of the nurturing care he needed from his mother; instead, she sought care from him. In time, he turned to porn that felt nurturing to him — primarily women doing solo sexual acts where, in his mind, he could receive their love and attention. Of the seven longings, he was specifically seeking attention, affection, and an affirmation of feelings.
Another friend had a dad that was often emotionally distant and angry. He longed for acceptance from his father. But often, the only attention he got from his dad was aggression, so his concepts of love and aggression were intertwined. He gravitated toward porn scenes with sexually aggressive women.
When I looked at porn, I felt powerful. I could fantasize that I was the object of affection for the women I viewed. My anger, pain, and sense of worthlessness were channeled into a moment of false empowerment and rewarded with a dopamine hit. It was a coping mechanism, a distraction from a reality I'd rather not face, and an attempt to fulfill the unmet longings in my life.
Hope for freedom


So if you were to audit your particular porn selection and preferences, which of the seven longings do you think are being temporarily satiated by it? Because it isn't random. It's deeply tied to your inherent longings.
The good news is God didn't create us to live in our unmet longings. He provides healthy avenues for each of them. He does so in our relationship with Jesus, but also in relationships with safe people. He desires to lead us to a life free from porn and its negative effects, and into one of thriving where our longings are truly satisfied.
Today, you can begin to understand the motivation behind your porn use and the particular longings that can only be truly satisfied through God and others. No matter the pain you have experienced, or the length of time you've struggled with porn, you can find what you've been truly longing for, and it starts by identifying your longings.
Ben Bennett is an author, podcast host, speaker, and the Director of Resolution Movement at Josh McDowell Ministry. He is the co-author with Josh McDowell of Free to Thrive: How Your Hurt, Struggles, and Deepest Longings Can Lead to a Fulfilling Life.