A widower's reflection on Valentine's Day: Experiencing God through tragedy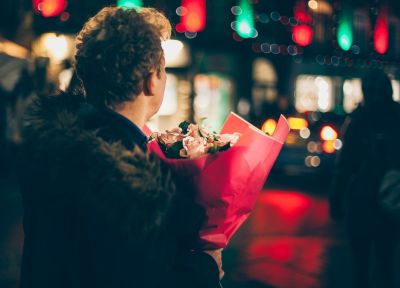 On this Valentine's Day, I am alone for the first time in 13 years. I have entered a new season of life as a widower. But as sad as that sounds (and it is hard), I am filled with joy. You see, this experience has left me closer to God than at any point in my life. My hope is that my story will encourage you.
I met my wife in 2009. As a lot of God designed stories are, the circumstances are a bit funny. At the time, I liked someone in my Sunday School class, so I created a party at my house. A mutual friend invited Gabrielle, which, to be honest, kind of annoyed me. But the moment I saw her, the girl I had my sights on became an afterthought. Within weeks, Gabrielle and I were dating. 
For me, dating was somewhat of a new experience. I was an awkward guy and had never seriously dated before. So when we had an awkward encounter, I thought "this is it, she's definitely going to dump me." In that moment, I heard the Holy Spirit tell me: "You will marry her."  So, I forged ahead confidently. And she became my bride about a year and a half later. God matched us, and I'm so happy He did.
Gabrielle and I had a wonderful first few years of marriage. She was kind, loving, and stunningly beautiful. But, as happens with many married couples, when the newness wore off, we hit a rough spot. During that time, in about 2014, I was praying over these difficulties, and I heard that same voice again. The Holy Spirit told me: "Love her hard now, she won't be with you forever."
So that's what I did. I loved her hard. I committed myself to her. We pushed past the rough spot. We had a love story. We had a baby together. We adopted another baby together. We created an incredibly loving and warm home for our two little girls. There were times when I would forget about that prayer and would even wonder if I had actually heard it. How could the family we have made be broken apart?
Then, about a year ago, my wife felt a lump. I knew instantly what was happening. Sure enough, it was cancer. I knew that she wasn't going to come back from it. I knew what God had told me. For me, the last year was a dark time. I spent hours upon hours praying against what I knew I had heard. I wanted to have heard wrong. And, I could not share my prayer with my wife, for I did not want to give her any reason not to fight. As a result, she doubted my faith at times, because I was so scared for her.
On November 30, 2022, I took my wife to the hospital. We learned that the cancer had spread. Three days later, she was gone (incredibly, friends outside took a picture of a rainbow at the same time!). But the strangest thing happened. God kept the 2014 prayer present in my mind. When my wife passed, I had unimaginable peace come upon me. The Holy Spirit has completely consumed me since that date. I have never known God better than I do in this moment.
This experience has also confirmed wholly and completely that God is real. Twice He communicated to me something that seemed unlikely at the time. And twice exactly what was communicated actually happened. For whatever reason, God intended this chapter of my life to be shorter. But, since he told me it would happen, I find peace in that. It's part of His design. 
Since Gabrielle went home to be with the Lord, I have also experienced what the Church Body is supposed to be. I have experienced incredible amounts of love. Every need, physical or emotional, has been covered. I have been served the way Christ served. Even people who are unbelievers have taken notice. The Body is beautiful. I'm so happy to be a part of it.
Gabrielle was too precious for this world. I'm happy she's in the loving arms of Jesus right now. She loved to sing praise, and I know she's doing it right now. I have peace knowing that. And, I have peace knowing that I will see her again someday in Heaven.
As a recent widower, I'm as happy as I have ever been, despite crying mostly every day. I hope my story can encourage others to find this happiness. God is real! Embrace that fact. Accept Christ as your savior. Enjoy the sense of peace and happiness that He brings. Benefit from the wisdom of His communications to you. You won't regret it, even in tragedy.
Curtis Schube is an attorney in Harrisburg, Pennsylvania.