In season of historic crisis and flooding, the Church has the answer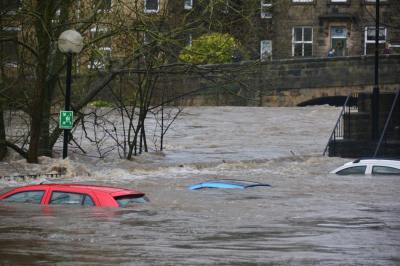 As crisis shakes cities and nations in America and around the world, perhaps never before has the alarm been sounding for the Church to bring kingdom solutions to some of the pressing needs and problems. Could it be that God is sounding an alarm to his people to respond with the compassion and mercy of Christ in this hour? Here's are a few of the pressing crises affecting the world as I write this:
Mozambique cyclone kills over 750 people, displaces 200,000+ people.
Nebraska flooding causes $1.4 billion dollars, 2,000+ homeless, farms, livestock destroyed as U.S. government warns of record spring flooding to come. 
Meanwhile, communities are still reeling from a record-breaking 2018 hurricane season with Florence, Michael and the worst wildfires in California history in Paradise.
As the nations are in turmoil, I am afraid to say that the Church has been too silent. Churches outside of the disaster zone go on with business as usual as whole cities and even states are crying out for relief and comfort. The Church sees it as a burden rather than a mission they are to engage in and miss the opportunity to minister and reach people, going through desperate times.
We have the answers, but we've been silent, with no voice in the midst of disaster because we haven't brought kingdom solutions and transformation to bear on those suffering trauma and grief.
A New Paradigm for Ministry 
I believe there is an alarm sounding for the Church to multiply in the context of crisis, by working with relief organizations and missions partners to extend the reach of a local congregation to the four corners of the earth. By partnering with organizations like CRI to reach the harvest in the midst of crisis, you as an individual, church, or business are bringing real solutions to real people suffering a devastating loss. Never before have we had the opportunity to share the love of God and the compassion of Christ with as many people as we do today. We can't relegate this ministry to the government or secular organizations that aren't offering the gospel of Jesus and meeting the spiritual and practical needs of those facing trauma and grief. When everything is lost, we need to point people to the only One who can truly help them in their time of need. We need an army of responders to join us in this work.
As I write this, teams of our responders are headed to Nebraska to aid in the relief efforts of a disaster that resulted in $1.4 billion in damages. These responders have gone through our certified training and now have access to join first responders on the front lines when disaster strikes. Our specialized training avoids what the government calls "the second disaster" which refers to the chaos that often ensues when unplanned resources and untrained volunteers arrive on the scene.
Will you join us for an upcoming training and get your church prepared? Our training is open to youth groups, churches of all sizes, shapes, and denominations, individuals and groups. Come expecting and join us at our85-acre missions base and campus in Blue Ridge, VA. Together let's bring the gospel to bear on those in need. It's time. 
Sean Malone is founder and director of Crisis Response International. CRI trains and deploy volunteers from communities, churches and other independent organizations for the purpose of responding to disasters and compassion initiatives around the world. View our upcoming trainings at www.criout.com/training