Struggling With Same Sex Attraction: Modern Day 'Lepers' and the Christians Who Touch Them
Same sex attraction simply isn't something people are "ok" with talking about.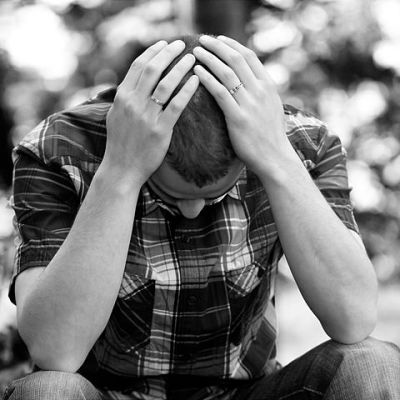 Lepers of the diseased and deformed variety still exist. We don't see them in our churches, or on the edges of the city gates anymore. We don't hear anyone shouting, "Unclean, unclean, unclean." But, there are people in the midst of our congregations that feel like lepers.
They feel like revealing themselves, uncovering the "disease and deformity" within them, will result in them being put out of the Lord's house. So, they struggle alone. And the more alone they feel, the more likely they are to embrace one another and fall back into the "disease and deformity" they've been actively fighting.
Who are the "Lepers"?
I'm talking about people who struggle with same sex attraction. There is such a stigma surrounding this particular struggle that it seems impossible to share it with anyone. There's fear that the reaction will result in the necessity to shout "unclean, unclean, unclean." Or, at the very least, people will avoid them with great intentionality.
People who have unwanted same sex attractions feel untouchable. There is fear in them that physical touch from those of the same sex could exacerbate the problem. Or, they fear that other people worry about it, and therefore won't even hug them. It is a legitimate concern.
In an effort to be more open and affirming, some denominations have sought to blur the lines of Scripture to accept an active same sex lifestyle. This only makes the leprosy worse, it furthers the "deformity" by allowing it to appear healthy.
Still others put huge road blocks in healing. They don't want these things talked about and any mention within their congregations is in reference to the Scriptures that discuss perversion and damnation. Yet, Jesus healed the lepers. He didn't tell them that their disease was "fine," and He didn't point His finger and tell them to be gone.
Jesus heals those who have same sex attractions too. But, sometimes He heals them in the same way He heals alcoholics and adulterers, by asking them to go and sin no more. This is no easy task and it is why we are advised to take our thoughts captive. It is why we are to work out our salvation with fear and trembling.
The Double Standard
Those who battle alcoholism, or struggle with the desire to become sexually active in all their dating relationships, are no different than those fighting their same sex attractions. But, an alcoholic can tell her women's group that she's thinking about drinking again and there will be tons of people who surround her and build her up. They will comfort her and assure her that God will give her the strength to get through it. They will pray with and for her. In their eyes, she's not a leper. She's simply a sister struggling.
Such is not the case for the woman fighting her heart out not to return to her lesbian tendencies. She knows that as soon as she tells the women in the congregation, a vast majority of them are going to see her as "unclean." They are going to keep her at arms-length (literally) and she suspects that any time she looks at them they will be wondering if she's attracted to them.
So, rather than reveal the things that are eating her up in the dark, she stays silent. The problem herein, is that evil and sin grow in the dark. This is why we are supposed to confess things one to another. But how can she confess something that will surely only make her feel all the more alone?
What Can We Do?
This is where Christians, the real Jesus loving, Jesus acting, kind come in. They have the ability to be willing to make her "clean" in their presence. They have the ability to hear her heart without judgment or condemnation. They have the ability to wrap her in their arms (literally) and show her that truly God loves her too.
But it will take them getting past their own fears of same sex attraction. It will take them understanding that all sin is crimson in God's sight. More importantly, it will take them realizing that struggling with attraction, or thoughts, is not sin. Even Paul admits that he did what he did not want to do.
My Story
I am an ex-lesbian. I have always been forthright about it with the congregations I involve myself in. However, my initial experience of such a revelation was during my marriage (to a man). While people still were a little off put, they figured that since I was married I was "healed." So, when I left him and realized I was back to fighting those thoughts, I knew I couldn't tell anyone.
I had finally gotten to the point that I was comfortable allowing the ladies in the church to hug me. I'd always drawn a very severe line there. They thought, for years, that I didn't like to be hugged. That simply wasn't true. I just didn't want anyone to feel uncomfortable with me. Nor did I want to risk any discomfort in that realm for myself. I was married, after all. Therefore, telling them that I was struggling with the issue again was, in my mind, the best way to bear the Scarlet "U" (unclean) before them.
Ultimately, I told a couple of good Christian lady friends that I was struggling and that I felt like a leper. They were so broken for me. Their tears were genuine and they embraced me with the love of Christ. Yet, they fully understood that my feelings about being a leper were warranted. Church people just wouldn't get it.
Same sex attraction simply isn't something people are "ok" with talking about. Thankfully, these women have been a tremendous support system for me. And, because I was able to bring the dark things into the light, there is less power in their persuasion.
Somehow we have to get to the point that we don't just cerebrally understand that all sin is crimson. We have to feel it in our hearts. We have to know that we all, like sheep, have gone astray. And, though my strayed territory may be uniquely different from yours, it doesn't make me any less (or more) a prodigal. When we can fully grasp that, then there will be no reason for anyone to feel like a leper in our midst.
Ginny Mink is a single mother of three, teacher, writer, and speaker. She publishes a blog at delightabidelove.com and has written several books. One of those is specifically focused on reaching out to the homosexual community: Be Jesus, Not Jonah. Her fictional novel, The Healer, is a great read too! All her books are available on Amazon.