These words need to take root in the hearts of faith-filled Americans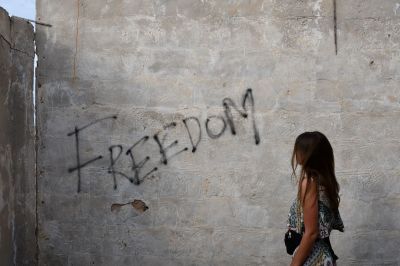 This Easter, billions of Christians around the world will celebrate the death and resurrection of Jesus. And for good reason: through belief in Christ's resurrection, Christians have been given a path to freedom — freedom from death and freedom from the sinful life that "so easily entangles" as Hebrews 12:1 exhorts.
But this freedom is not a license to do what we please as individuals or as a society. I am reminded this Easter season that we should use the freedom Christ won for us to serve, protect and defend each other, especially the most vulnerable among us.
Galatians 5:13 is clear: "For you were called to freedom, brothers. Only do not use your freedom as an opportunity for the flesh, but through love serve one another." In America today, our most vulnerable need this kind of loving service and protection. Family values, life and religious freedom are being threatened, and our nation needs these words from Galatians 5 to take root in the hearts of faith-filled Americans now more than ever. 
The Constitution protects our right to minister and worship freely without fear or threat of incrimination, but increasingly those freedoms are coming under attack. Just recently, some in the American liberal media blatantly mocked Christians for their "thought and prayers" during the tragic school shooting in Nashville. On a larger scale, a new report from the Anti-Defamation League uncovered just under 3,700 antisemitic incidents in the U.S. last year.
This is unacceptable. It's un-American. People of faith must stand together in unison and push back against these jabs at our God-given and constitutional rights. We must not cower as believers. Now is the time to stand up and defend our faith, convictions and values.
Our fight for life must continue, too. Advocates for the unborn have much to celebrate this year, with a whole host of new state-level pro-life legislation either on the books or in the works. But some states are only making it easier to end a life, and Christians must double down on their efforts to feed the hungry, clothe the naked, minister to pregnant women in crisis, house the homeless and share the hope of the Gospel with vulnerable mothers and their families.
Traditional family values are also under siege. The woke liberal agenda continues to threaten the family and undermine traditional marriage, making Christians out to be the intolerant ones while they indoctrinate the youth of today with confusing gender ideologies.
Governor Ron DeSantis last year said, "Florida is where woke goes to die." I admire his philosophy, but this must not be relegated only to Florida. Christians across the country must step out of their comfort zones and sound the alarm in every county and state across this fruited plain. Our children are vulnerable, and they need our guidance and protection.
As we do this work, we must remember that we are in a battle, and that battle is not against "flesh and blood, but … against the spiritual forces of evil in the heavenly realms" (Ephesians 6:12). Our neighbors are not the enemy — the powers of darkness that call what's right wrong and what's wrong right are the real adversary.
We see that adversary running rampant in our society today. But remember this too — he will not have the victory. Christ has already won, and we fight for freedom from the winning side.
So, this Easter, we must raise our voices and collectively cry out in unison for the beliefs we hold so dear. Let us use our freedom in Christ to speak out against injustice — abortion, the denigration of the traditional family, and religious persecution. Let us have a renewed sense of urgency to get involved in these issues at our local, state and national levels. And let us be men and women of steadfast prayer, recommitting to pray for those who stand as Christ-followers in our government. Let us pray for their protection, their boldness, and for their voices to be heard.
We must use our freedoms to continue to fight the good fight this Easter season and throughout the coming year. This is the service to which we were called.