This Is My Choice: A Birth Mom's Plea to Protect Faith-Based Adoption Agencies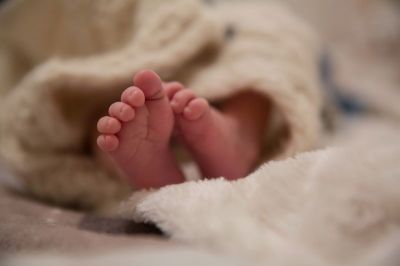 The minutes on the hospital clock dwindled as I swaddled my infant daughter one last time before she was permanently placed in the arms of her adoptive family. In those final moments, I thought my heart might shatter. I was broken. Then I felt a hand placed on top of mine, and looked into the face of my adoption social worker, a caring individual who'd spent numerous hours by my side. She was one of my greatest advocates and provided hope and encouragement during a time of doubt and sadness. Without her guiding hand in the adoption process, my story would be a much different one.
I learned I was pregnant during my junior year of college. Holding a positive pregnancy test in my hand, I recoiled in fear and shame. I didn't know what to do or where to turn for help. I held several leadership positions at the Christian university I attended. I was a Resident Assistant in a dormitory. I was an editor for our campus newspaper, and editor-in-chief of our school magazine. I was an A-student. Like many girls my age, I'd strived for perfection in every facet of life. An unplanned pregnancy was not part of my meticulously planned life. Faced with a life-altering circumstance, loneliness enveloped me as I tried to determine what choices were available.
It was my choice not to have an abortion. Instead, I chose to carry my baby to term.
Because I was afraid of rejection among peers and the possibility of being released from my leadership positions at college, I hid my pregnancy for five months, or my entire Spring semester. Whenever I felt my unborn child stirring in my womb while sitting in class or my dorm room, I'd cradle my belly and whisper, "I love you little one," and dreamed about life as mom. Over time, those dreams faded with the realization that I wasn't prepared to be a parent. At the time, I wasn't capable of giving my baby everything she deserved. In the end, my boyfriend and I made the heart wrenching decision to move forward with an adoption plan.
Since it was my choice to carry my child and make an adoption plan, I wanted the freedom to select the adoptive parents. It was my personal desire to place my daughter in a traditional home with a married mother and father who shared the same Christian faith and family goals that I did. By having choices, it made a difficult decision easier to bear.
When I arrived at my hometown in Colorado for summer break, I began researching local adoption agencies. It was important that the agency I chose held similar beliefs and core values as my own. The moment I walked into Hope's Promise, a faith-based adoption agency located in Castle Rock, Colorado, I knew I'd found a safe place. Not only was I welcomed with loving arms, I was provided with a variety of parenting options and counseling services so I could make the best decision for me and my child. My social worker met with me on a regular basis to listen to my wishes and help me craft an adoption plan I was comfortable with. Every encounter I had with the agency left me with greater clarity, direction, and a renewed sense of hope.
When my baby girl was born, I held her tight and told her, "I'll always love you." Leaving the hospital without my daughter was the single hardest thing I'd ever done. Thankfully, the support given by Hope's Promise didn't come to an end there. My adoption social worker continued to give encouragement throughout my initial journey of healing, until I felt strong enough to forge ahead on my own.
Faith-based adoption agencies are vital to our society.
Every woman who faces an unplanned pregnancy and chooses to make an adoption plan for their child also deserves the same right to choose which agency will represent her in the adoption process. Navigating an unplanned pregnancy is difficult enough without the possibility of faith-based agencies being forced to shut their doors.
Birth parents deserve to have their voices heard. This is why I'm disappointed that Colorado legislators took it into their own hands to speak on my behalf. Instead of protecting faith-based agencies, they listened to opposing views that spread fears and lies about the issue. Our country was founded on the basis of religious freedom, and within that freedom are the rights of faith-based agencies to represent a birth mother's religious beliefs. Removing faith-based agencies in Colorado may create unnecessary fears, anxiety and possible depression for birth mothers who already face a difficult decision. Our legislators must act on the rights of faith-based agencies and make the adoption bill a priority for next year.
Adrian Collins writes about the real-life complexities of being both a birth mother and an adoptive mother. She has testified before the Colorado Senate committee on behalf of the Colorado Children First Act, interviewed for Phil Darke's
Think Orphan
podcast, been published in
Her View From Home
and
BLUNTmoms
, and is the adoption and blog editor for Hope's Promise, a faith-based adoption agency. Adrian studied journalism at Point Loma Nazarene University in San Diego and is married to her high school sweetheart where they currently reside in Castle Rock, Colorado. When she's not writing, Adrian is actively pursuing her goal of visiting all U.S National Parks with her kids. Adrian is working on her first memoir about hope and healing through the journey of adoption. She can be reached at
http://adriancollins.org
, Facebook,
instagram.com/adrianccollins
or email at accollinsfam@gmail.com.