'Unplanned' is a movie the radicals do not want you to watch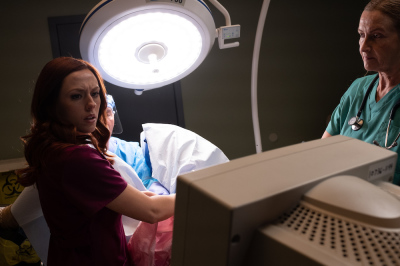 A couple of years ago, I had occasion to write about Bella Bond, a two-year-old girl who was discovered inside a trash bag on a Deer Island beach in Boston Harbor. "How depraved we have become as a culture," I thought, not imagining it could actually get worse. Well, it turns out my imagination was shortsighted.   
By way of quick review, Bella's mom, Rachel, had a criminal background, a long history of drug addiction and child abuse/neglect, and had lost custody of two previous children. The Massachusetts Department of Children and Families (DCF) had apparently received multiple calls regarding Bella but failed to provide refuge.   
Instead, she was left to live in an unsafe home where she was eventually killed, then stuffed inside a trash bag and dumped into the ocean.   
Surely, this would lead to serious reform of DCF, right? Not so much. There was some talk, followed by meaningless changes, and here we are today, waiting for the next tragedy. And make no mistake, that tragedy will surely come.    
Missing from the discussion, at the time, was the secret suffering that is ongoing, day after day after day. While it may be true that DCF-related deaths are few, the neglect and abuse children endure inside the deeply flawed foster care system is widespread and all but completely ignored by the media. Moreover, the dysfunction is of no real interest to the politicians responsible for the system, who have steadfastly refused to discuss the problems, let alone attempt to seriously to fix them.   
So why was I surprised a few weeks back when I saw lawmakers in a nearby state actually clapping and cheering when a bill was signed that allowed the killing of babies right up until the day of birth? Or how about a few weeks later when a different set of politicians could not even agree on a bill that required medical care to be administered to any baby born alive after a failed abortion.   
How did our nation fall into such darkness that so many people have such little regard for the well-being of the most innocent among us?    
With that as background, I had occasion this week to watch a video in which several people testified before the Kentucky State Senate regarding an abortion bill. The testimony of two women stood out.   
First, there was the lady who proudly spoke about her abortion, while advancing Planned Parenthood lies. "It didn't have a heartbeat. It didn't have a face. It didn't have feelings. It was a clump of cells and tissue," said Nicole Stipp of Louisville.   
Then there was the testimony of former abortion clinic worker Abby Johnson. While she testified forcefully at that hearing, her comments in a prior speech struck me the most. She had worked in a clinic for several years without being fully aware until one day she assisted in an ultrasound-guided abortion and could see directly on a monitor exactly what happens in the womb during a first-trimester abortion.   
"Can you see the arms and legs? Yes," she said. "Can you see the fingers and toes? Yes, absolutely. You see that baby's heart beating. You see the whole baby on that screen."   
Johnson said there is one question almost all women ask prior to an abortion. "Will my baby feel pain?" She had answered a thousand times emphatically with a "no," exactly as Planned Parenthood had instructed her. She had no idea it was a lie.   
Then came the day when the truth was revealed to Johnson on a TV screen when she witnessed undeniably that the baby most certainly did feel pain before it was literally torn apart and sucked out of the womb by a force much more powerful than a household vacuum.   
"(The abortion doctor) is going to take that suction probe and blindly poke it around until he thinks he has enough blood and tissue," explained Johnson. The small body parts would eventually be placed inside a bag and stored in a freezer.   
"Those bags would be picked up by a company that would later place the baby parts in an incinerator," explained Johnson. "That's if the abortion facility decides they don't want to just put them in their industrial size disposal and grind them up and put them into the waste water."   
So there you have it. Welcome to the new America where about half of us proudly advocate for the slaughter of babies and tens of thousands of others neglect and abuse their children after they are born; a place where our politicians are complicit in this Holocaust, and people like you and me do not want to be bothered to do anything about it.   
Johnson's story has been developed into a movie, "Unplanned," scheduled for release March 28th. I saw the preview and it brought me to tears, as I suspect it would for anyone whose heart is not frozen cold as ice.    
The movie is rated "R" because of its subject matter. That means a sixteen-year-old girl will not be allowed to see this movie without a parent present because the film depicts abortion, but that same girl could have an actual abortion without her parents even knowing. Let that sink in for a minute.    
While the movie exposes the horror of abortion, I am told that it also offers hope to women who are pregnant, and for women who are grieving after an abortion, along with hope for abortion workers who are haunted by the violence that has taken place in their clinics. There are services and organizations available to help, a few of which are listed below. 
And what about the rest of us, especially those who call themselves Christian? What will we do? When a nation that has been blessed by God becomes a society that does not care for its young, we should assume a reckoning is coming, not just for the perpetrators but also for those who stand idle in the midst of such evil.
Darkness cannot be prevalent apart from the absence of light. It is hard to imagine that our culture could have descended into such deep darkness if we who claim to be followers of Jesus were being faithful to our call to be "the light of the world."
If there is to be any hope for the future of our nation, if we desire to escape the judgment we clearly deserve, we who call Christ our Lord had better get serious about living in sacrificial obedience to him. A good place for us to start would be Revelation 3:1-3.
Jim Ash is the founder and publisher of the Main Street Journal, a local newspaper in Marlborough. He and his wife have extensive experience with the foster care/adoption in Massachusetts.
Help for pregnant women:
https://optionline.org
www.care-net.org/what-is-a-pregnancy-center:
Support for post abortion trauma:
www.operationrescue.org/about-abortion/post-abortion-help/hopeafterabortion.com
To get involved in right to life issues:
www.nrlc.org/help
www.heartbeatinternational.org
This column originally appeared here:
http://msjnews.com/ash-let-those-with-blinders-see-p12090-102.htm