Your Soul and Not All The Glittering Goods in the World Are What Matter to God in the End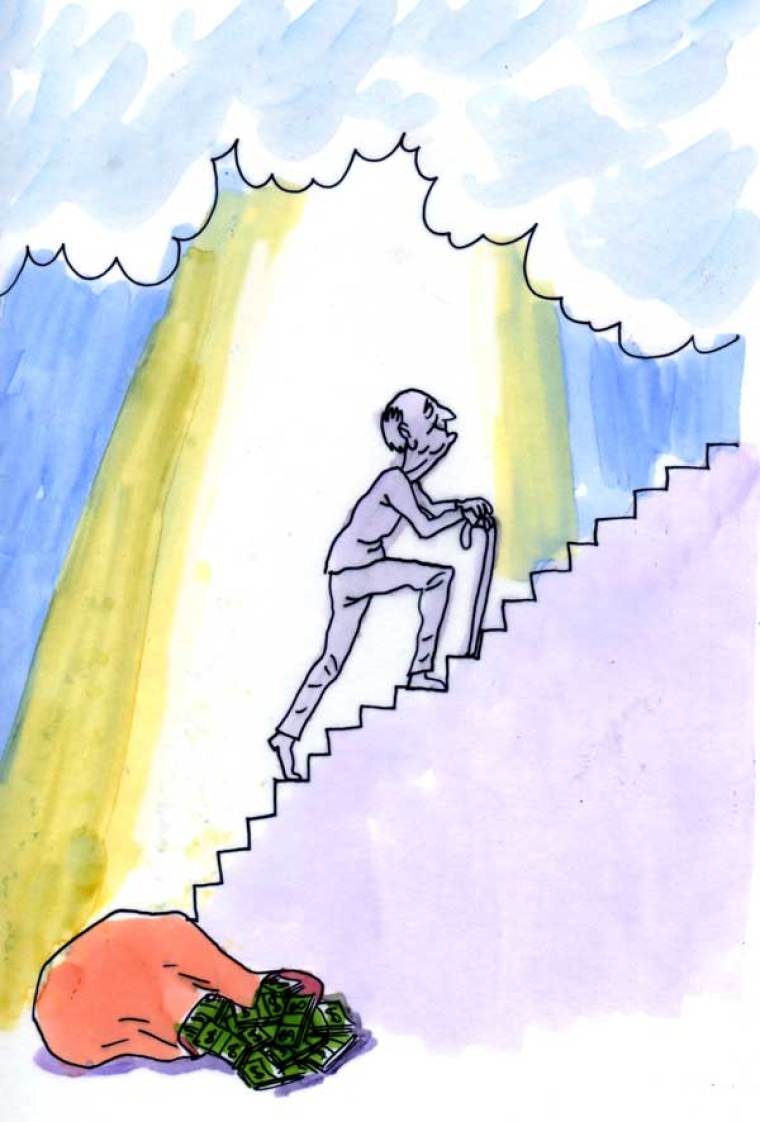 Today is Monday. Today I am in Singapore. Today I didn't know what to do with myself, so I took the train to Orchard Road after a steamed bun breakfast on the 14th floor of an HDB apartment block. I only got lost a couple of times.
The sights that greeted me once there were rather unfamiliar to my small-town eyes. Dolce & Gabbana, Prada, Louis Vuitton, Tiffany & Co., Rolex, Michael Kors and more—branded labels galore.
Outside, high-rise lined footpaths seemed to flow like water with the people streaming down them. Inside was not much different, pavement giving way to tiles and lights and endless escalators.
The glittering shop fronts promised delights and rewards, fulfilment for those game enough to venture inside and spend their money: a fair exchange of cash for goods on the surface.
It got me wondering if that was really it, if we shop just because we need stuff.
What about all the things we buy which we don't need?
If one requires clothing, a five-dollar piece from Cotton On does the same thing as something sold for $500. For storage, why not a plastic bag instead of a $2000 Yves Saint Lauren clutch? Won't we still be fed if we get chicken rice from a hawker centre instead of dining gourmet in a fancy restaurant?
The luxurious shops on Orchard Road don't cater for the basic necessities of life but something else. They show that so much of shopping is actually about the immaterial.
Immaterial in the sense that much of what we buy is unnecessary but also in the sense that, at some point, we are no longer really purchasing the tangible product. We stop simply giving cash for goods and instead begin to buy the intangible with our labour and time, our being.
We long for immortality, love and a better life and think we can own them when we acquire Shiseido skincare, Chanel fragrances and BoConcept furniture.
We even use what we buy to promote ourselves, subscribing to the thinking that if we wear Gucci we must be better than other people.
It's naturally nearly unavoidable to think in such a way. We're programmed to make meaning and value aesthetic experience. The assurances of the things of this world, their comforting solidity and reality, easily fool us into believing they are what matters most too.
But if we don't check ourselves we'll get all mixed up and walk down the wrong path.
The thing that actually matters is not what we own, our material well-being or our ability to consume—it is where we set our hearts.
It is our souls that are truly valuable
We need to ask ourselves, when the gold glitters and the lights shine and we find our hearts tugged after worldy improvement, "What will it profit me if I gain the whole world and forfeit my soul?" (Matthew chapter 16, verse 26.)
We need to realise that it is God who matters.
One day we will stand before him and give account for our lives. Diamonds and designer gear won't help then—but Jesus will, if we have trusted him as Lord and Saviour, believing the good news about him. He came to save us and wash away our sins.
Let us not store up for ourselves treasures on earth.
Let us store up our treasures in heaven, where they can never corrode, degrade, wear out, or be stolen from us. Where our treasure is, there will our hearts be also (Matthew chapter 6, verses 19–21).
Irenie How was rescued from darkness by the grace of God when she was running away from Him. God showed her that He is the Lord and she wants you to know this too. She works as a graphic designer in Christchurch, New Zealand. Check out some of her work on Behance and drop her a line!
Irenie How's previous articles may be viewed at http://www.pressserviceinternational.org/irenie-how.html
This article is courtesy of Press Service International and originally appeared on Christian Today Australia.