Brazil's new Jesus statue will surpass height of Rio's iconic Christ the Redeemer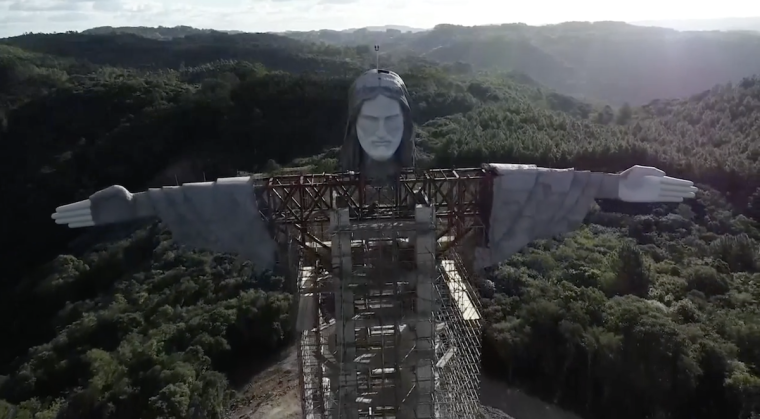 A new statue of Jesus Christ is under construction in southern Brazil and will surpass the height of the iconic Christ the Redeemer statue that overlooks Rio de Janeiro.
Christianity is the largest religion in the world with 2.3 billion people professing their faith in Jesus Christ. Many cities throughout the world are known for their ancient churches, historic cathedrals and images of Jesus and the saints that draw tourists. And in Brazil, where people flock to see the Christ the Redeemer statue, many are gearing up for the completion of its second world-famous statue representing Jesus, called Christ the Protector.
Builders began construction on the statue in the city of Encantado in 2019. It's expected to be bigger than Christ the Redeemer which was completed nearly 90 years ago. Christ the Redeemer measures more than 124 feet high and spans more than 91 feet hand to hand. 
Christ the Protector will measure more than 118 feet from hand to hand and will stand more than 141 feet tall. The structure will house an internal elevator that tourists can use to access the observation deck near the top of the figure. 
According to France 24, the idea for the statue was first conceived by Brazilian politician Adroaldo Conzatti, who died in March of complications from COVID-19. His son, Gilson Conzatti, said the day of the statue's public unveiling will be "a day for celebration, for devotion." 
The project's budget is listed at $350,000 and is funded solely by donations. 

With the completion of the head and outstretched arms, the rest of the statue is expected to be finished later this year. 
Once completed, Christ the Protector will be the world's third tallest Jesus statue. Current title holders go to both the Jesus Buntu Burake statue in Sulawesi, Indonesia, and Christ the King in Swiebodzin, Poland, which stands at 172 feet.
According to Mexico News Daily, popular Mexican actor and devout Catholic, Eduardo Verástegui Córdoba, hired architect Fernando Romero to erect the tallest statue of Christ ever built which will stand in Tamaulipas' state capital, Ciudad Victoria. The capital is described as one of the most dangerous areas of Mexico, with a reported "83.32 homicides per every 100,000 people."
Named "Christ of Peace," Verástegui Córdoba's hope is to have the statue built at a towering 252 feet, which is nearly twice the size of Christ the Redeemer. Further information has not been released on the status of the project.