Dad faces arrest if he refers to trans-identified daughter by her birth sex: court order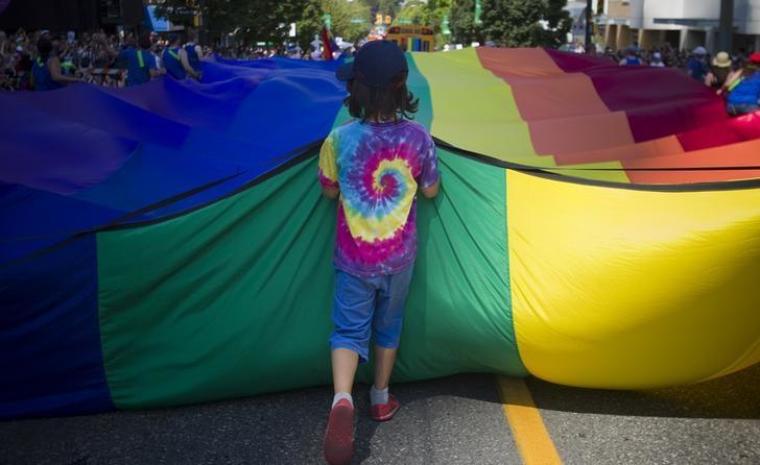 A father in Canada is facing the possibility of arrest if he refers to his trans-identified 14-year-old daughter as a "girl" after a court ordered that the teen be allowed to begin taking testosterone.
The teenager's mother supports the gender transition while the father is opposed.  
After the British Columbia Supreme Court ruled in February to allow the 14-year-old girl, Maxine (not her real name), to begin taking drugs to transition to look more like a boy, the court issued a "protection order" this month in an attempt to stop her father (known as Clark) from continuing to privately or publicly refer to his daughter as a female.
In the order issued on April 15 and a related document justifying it, Justice Francesca Marzari argues that the father committed "family violence" by issuing what the court called "expressions of rejection" of the child's gender identity.
"This court has already determined that it is a form of family violence to AB for any of his family members to address him by his birth name, refer to him as a girl or with female pronouns (whether to him directly or to third parties), or to attempt to persuade him to abandon treatment for gender dysphoria," Marzari writes.
"AB says that the evidence establishes that CD has done all of the above, and has continued to do so even after the court found that these actions were contrary to AB's best interests and constitute family violence."
Mazari took issue with Clark talking with various conservative media outlets like The Federalist about the endeavor and his opposition to his child's gender transition. Marzari added in the order that Clark not only referred to his daughter as a female but also publicly shared personal and medical information about her.
Mazari also addressed insensitive user comments that were posted to online news articles related to the family's tension. Some even reportedly encouraged the teenager to commit suicide.
"Those posts make me terrified that my father is going to go public in some way that will identify me and open me up to terrible bullying or violence. If he speaks in public 'as my father' about me in my case, I will be 'outed' and I can never go back in the closet," the teenager was quoted as saying in the court document.
"My mom told me that there are also interviews with my father on the Culture Guard website but I cannot bear to watch them. It feels as if my dad is going behind my back and I feel really sad and disappointed that he is doing that."
Mazari acknowledges that the order effectively restricts the father's freedom of expression. Although Clark argued that his free speech rights would be compromised by the order, the court reasoned that his "rights as a parent are necessarily guided and constrained by the [Family Law Act] and orders of this court."
"His rights do not include harming his child," Mazari contends.
Under the order's terms, Clark can no longer attempt to persuade his child to abandon hormone treatments, despite medical experts' and scholars' warnings about the harmful effects and lack of consensus for such treatment in children.  
The father had previously supplied the court with affidavits from Atlanta-based pediatric endocrinologist Dr. Quentin Van Meter and New York-based psychiatrist Miriam Grossman outlining that potential psychological and physical effects of hormone therapy on children.
The father can also no longer refer to his child by her birth name or with female pronouns. Also, he can no longer publicly share or publish information related to his child's "gender identity, sexual orientation, mental or physical health, medical status or therapies."
The father is also barred from authorizing anyone other than him or his lawyer to access copies of court documents related to the case.
The order will last for one year and is subject to a court-issued extension. The father can also be arrested if he is perceived to be in violation of the court order.
"Any Peace Officer, including any [Royal Canadian Mounted Police] Officer, having jurisdiction in the Province of British Columbia, who has reasonable and probable grounds believes that the respondent … is in breach of the terms of this order may immediately arrest that person and bring him before a judge of the Supreme Court  promptly after the arrest to be dealt with on an inquiry to determine whether he has committed a breach of this order or is in contempt of court," the order reads.
Kari Simpson, president of the Canadian pro-family organization Culture Guard, told The Federalist that Mazari's order is "extreme and dangerous" because it forces a father to embrace a "delusion" concerning his daughter or risk the possibility of arrest.
In the U.S., courts are also grappling with how to handle cases involving children who suffer from gender dysphoria and want to take hormones and puberty blockers, and parents who oppose it.
In 2018, a Christian couple in Ohio lost custody of their teenage daughter because they opposed her desire to medically transition. Sylvia Hendon, a visiting Juvenile Court judge in Hamilton County, Ohio, granted custody of the child to grandparents who are affirming of the child's gender identity and desire to change genders.
A report from earlier this year indicated that gender clinics across Canada have experienced exponential growth in the number of children being referred for gender transitions.
According to the report from the Canadian Broadcasting Corporation, British Columbia Children's Hospital reported receiving 240 referrals of trans-identified children in 2018. By comparison, only 20 children were referred to the clinic for gender identity issues in 2013.