Hope and reconciliation - two things British church leaders want to see more of amidst Brexit chaos
Church says Britain needs a comprehensive withdrawal agreement after Theresa May's colossal Commons defeat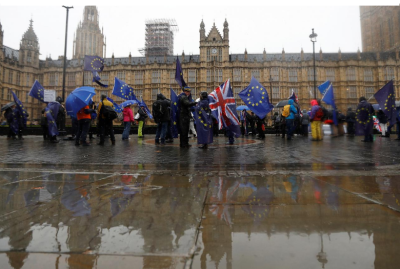 British church leaders want to see more hope and less 'mudslinging' as Britain continues its messy withdrawal from the European Union.
After the colossal defeat of Theresa May's deal in the House of Commons on Tuesday night, the Church of Scotland said it was necessary for the UK Government to ensure that a "comprehensive agreement" is in place before Britain exits the E.U., which is due to take place on March 29.
Speaking after the vote, the head of the Church and Society Council, the Rev Dr Richard Frazer, said that anything less than a comprehensive agreement would be "reckless" and lead to a "loss of good faith with our closest neighbors on which we depend for our common good." 
Despite two years of intense negotiations with the EU, May's deal was resoundingly rejected by 230 votes - the biggest defeat suffered by any British sitting government. 
The outcome has thrown not only the entire Brexit process into question but also her own political future after opposition leader Jeremy Corbyn tabled a no-confidence vote that could trigger her resignation and a fresh general election. 
Across the waters, Europe appeared to be buckling down for a no-deal Brexit. 
"The risk of a disorderly withdrawal of the United Kingdom has increased with this evening's vote," Commission President Jean-Claude Juncker said in a statement following the vote.
"While we do not want this to happen, the European Commission will continue its contingency work to help ensure the EU is fully prepared," he said. 
Regardless of what happens now, Dr Frazer said a "different approach" to reconciliation was needed as he called for more listening instead of "shouting".
"Reconciliation across our divided society needs a different approach, one in which we can take a deliberately slower and more thoughtful approach to discerning our future relationship with the EU," he said. 
"We need a much more respectful dialogue, one which is based on listening attentively rather than shouting louder.
"The Westminster Parliament and UK Government must work actively towards consensus in all parts of the UK about our future relationship with the EU and to use whatever mechanisms are necessary to create the time for this to happen.
"What we do, and how we do it, over these coming weeks will have an impact not just for the next few years but for generations to come." 
Days before the vote, the Bishop of Leeds made a similar call for the "mudslinging" over Brexit to end.
Writing in his blog, the Rt Rev Nick Baines said Christians in particular had to offer a message of hope at a time when divisions, insecurity and fear over Brexit are creating "dangerous circumstances." 
In particular, he voiced concerns about the rise of populism and warned that patriotism should not be confused with nationalism. 
His message wasn't only for the common people but the nation's leaders, who he said were exchanging political vision and substance for "visceral and emotional" slogans.
"I have repeatedly pleaded for our legislature to watch its language and do something to redeem our articulated common life," he said.
"Everyone agrees, but many then promptly revert to the categorising and mudslinging." 
He continued: "But, Christians are not driven by fear; we are drawn by hope. A hope that comes to us from the future – resurrection. It is a hope that should not be confused with fantasy."