Target sells pride merch from 'Satan respects pronouns' brand
Trans-identified designer: 'Satan is hope, compassion, equality and love'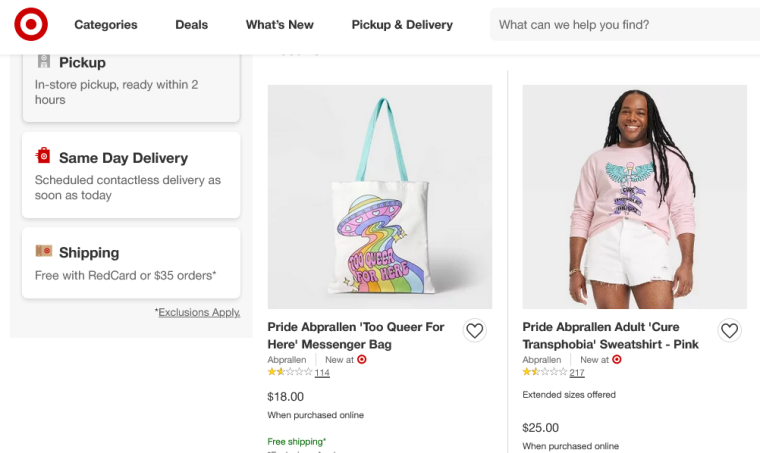 On the heels — pun intended — of a disastrous transgender Bud Light marketing campaign, retail giant Target is now selling merch from a designer of satanic apparel.
Target's website is currently selling two items from the brand Abprallen, a British designer which offers various apparel with images of skulls, horned goats and numerous references to the occult.
Two of the brand's items for sale on Target.com are an Abprallen messenger bag that reads "Too Queer for Here" and a sweatshirt that reads "Cure transphobia, not trans people."
Other items for sale on the Abprallen website include products with messages including "Satan respects pronouns," "Gay as Hell," and "Join My Gay Cult."
"Satan loves you and respects who you are. You're important and valuable in this world and you deserve to treat yourself with love and respect," one product description reads.
Abprallen was started by "Erik-James Carnell," a biological woman who identifies as a "gay trans man" based out of London.
On March 28, Abprallen shared the "Satan respects pronouns" design on Instagram and wrote that LGBT-identified people are "often referred to as being a product of Satan or going against God's will, so fine. We'll hang with Satan instead."
The caption acknowledged using Baphomet, the goat-headed idol worshiped by satanists, as the product's inspiration: "Satan is hope, compassion, equality, and love. So, naturally, Satan respects pronouns. He loves all [LGBT] people. I went with a variation of Baphomet for this design, a deity who themself is a mixture of genders, beings, ideas and existences. They reject binary stereotypes and expectations. Perfect."
The site also features a number of apparel with violent symbols or messaging, including one "all genders" shirt that reads "Homophobe Headrest" with a graphic of a guillotine and skulls — which, for some Christians, could be seen as a possible reference to Revelation 20:4 and those who are "beheaded for their testimony of Jesus and for the word of God."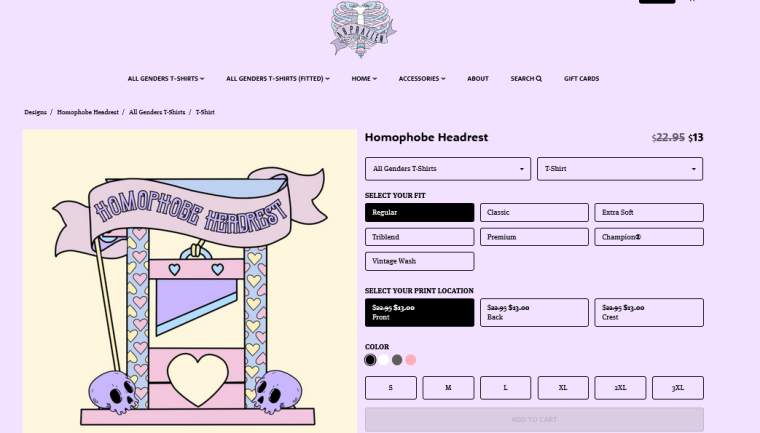 Another design has the message "We Bash Back" with a graphic of a medieval-style ball-and chain mace-style weapon with spikes and a bludgeon head in the shape of a heart. 
On March 24, Abprallen posted a graphic of a goat's head on top of a wolf with the words, "IF I CANNOT INSPIRE LOVE I WILL CAUSE FEAR" and a caption echoing that same statement.
"The transsexual is seen as monstrous, particularly if you're a trans woman or trans fem...I hate feeling myself become bitter and cold, I'm tired of having to try so hard to not let hate take over. I want to live a normal, quiet, calm life. I want to be loved and to express love…. If I cannot inspire love, I will cause fear," the caption read.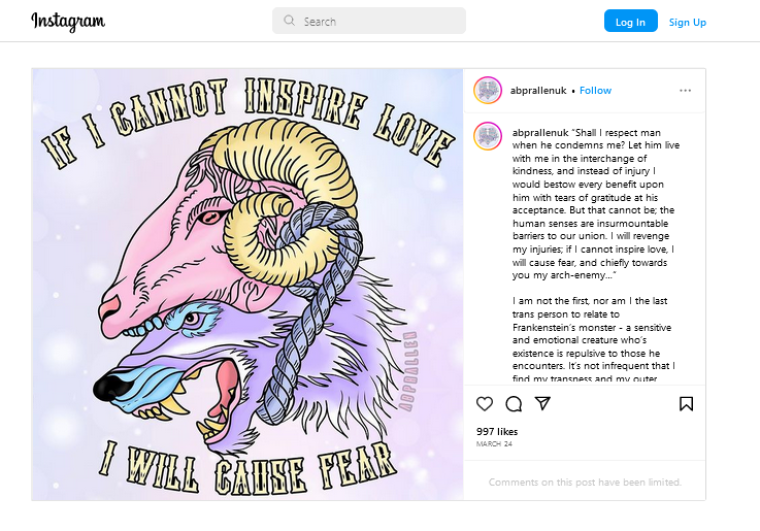 The designer celebrated the Target deal in a May 18 Facebook post which read in part: "Being able to sell my stuff in Target stores is incredibly exciting, knowing that people are seeing it without (necessarily) explicitly seeking LGBT-related stuff is wonderful, and I'm especially happy at the thought that young closeted people will see it…"
The Christian Post reached out to Target for comment but did not receive a response as of Tuesday by press time. This story will be updated in the event a response is received.
In order to avoid another "Bud Light situation," a number of Target stores — located primarily in rural Southern areas — were forced to move the stores' LGBT merchandise to less prominent areas of the store in response to customer "outrage," Fox News reported Tuesday.
Target's latest product partnership comes after Bud Light and Nike's promotional campaigns featuring trans-identified individuals fell flat with consumers, particularly Bud Light, which lost $5 billion in value as a result of paying TikTok trans influencer Dylan Mulvaney to promote the brand.
On April 14, Anheuser-Busch CEO Brendan Whitworth released a statement in response to the massive public backlash over its partnership with Mulvaney to celebrate his 365 days of identifying as a girl.
"We never intended to be part of a discussion that divides people. We are in the business of bringing people together over a beer," Whitworth said. "My time serving this country taught me the importance of accountability and the values upon which America was founded: freedom, hard work and respect for one another. As CEO of Anheuser-Busch, I am focused on building and protecting our remarkable history and heritage."
Target — which recently began selling "tuck-friendly swimsuits" for trans-identified customers — has faced backlash from conservatives for its public support for the LGBT movement, both in products and policy.
In 2016, Target spurred calls for a boycott when it announced that it was allowing customers and employees to use the bathrooms of their preferred gender identity rather than their biological sex. 
Weeks later, the American Family Association compiled a list of 10 cases that showed why Target's bathroom policies allowing male customers who identify as female to enter women's bathrooms and dressing rooms put women and girls at risk.