'Bless Your Pastor': How evangelical churches are helping financially strapped clergy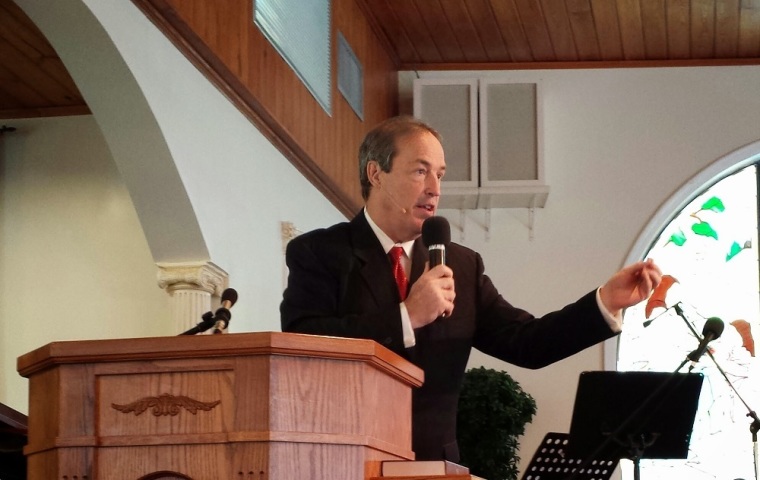 A 'model church'
Kluth served from 1999 to 2009 as the senior pastor of First Evangelical Free Church of Colorado Springs, a church of about 300 people.
After feeling the call to ministry in his mid-40s, Kluth took a pay cut of $70,000 to become a pastor and move his wife, Sandi, and three young children to Colorado.
Kluth admits that his family had to adjust their lifestyle to make the transition to ministry life work. But what made the transition easier, he said, was the generosity the congregants displayed toward him and his family. 
Kluth recalled various instances of generosity his family was the recipient of over the years.  
According to Kluth, one doctor who attended the church offered him and his family free medical checkups, while another congregant offered the Kluth family use of his family vacation home in the Colorado mountains. Another churchgoer, he added, offered to help fix his car. 
When Kluth first started working at the church, he was informed that the church takes up a yearly offering to benefit the pastor around the Christmas holidays.
But Kluth said he was uncomfortable taking the offering money all for his family when so many other people work so hard at the church as well. So the church agreed to let him split the offering money with the church staff.
Even split up several ways, the offering money was enough to enable the Kluth family to do things they wouldn't have been able to afford to do on a pastor's salary, such as traveling home to Minnesota for the winter holidays.
"The good things that happened in my church [can] be a model of what can happen in any church," Kluth told CP. 
About two years into the family's time in Colorado Springs, Sandi was diagnosed with terminal cancer, which took her life years later. But during this time, the congregation blessed the Kluth family with countless meals to take the load off Sandi. 
But as their children got older and began taking up extracurricular activities, the Kluth family began asking for gift cards instead of prepared meals. Gift cards allowed the Kluths to pick up the kids from their various activities and buy dinner so that his wife wouldn't have to worry about anything. 
Eventually, the Kluth family ended up with a stack of gift cards to various restaurants.  
"My wife didn't have to prepare meals, shop for it or clean up," Kluth said. "Because she was weak from cancer treatments, that was a huge, massive blessing that went on for eight years. We had eight years of gift cards. I couldn't pay for that out of my salary. I could never afford to be taking my family to restaurants. But for somebody who has cancer, that was really a massive help to us."
Kluth recalled that after Sandi went to Heaven, a dozen Christian ladies in the community came over and cleaned the Kluth family's home in advance of extended family coming in from out of town for the funeral. 
"This platoon of 12 women came with vacuum cleaners, mops, and rags and spray and absolutely cleaned every inch of our house for me," he said. 
For the Bless Your Pastor campaign, Kluth said NAE is encouraging "tangible creative provisions" and "grassroots activity among the Christians at the church" beyond just providing money or a gift card to a pastor.
"By God's grace, this can be a real move of generosity that will bless many, many pastors and church staff and bless the Christians who participate, because I believe the greatest joy is being a blessing in sharing," Kluth said.
"It brings joy to the giver to be able to bless someone else. Even Jesus said, 'it's more blessed to give than to receive.' So this is a call for people to experience that and to bless their pastor and staff and receive the joy themselves."
'Better to give than receive' 
One example of a churchgoer who selflessly gave up her time to help out her pastor's family is Beth, who resides in the Denver metro area and attends a fairly large church of over 1,500 attendees. 
For over a year, Beth baby-sat her pastor's three children once a week to give the church leader and his wife time to go on dates and focus on their marriage. 
Coming through a divorce that ended a 31-year marriage, Beth told CP that she felt the Lord laid it on her heart to offer the free date-night childcare to her pastor and his wife.
"I have a heart for pastors knowing the demands, the weight they carry. It's just a very heavy job — especially being a dad or a mom and the demands [it puts] on the family," Beth, who asked that her full name not be revealed, explained. "There was a desire that the job of being a pastor not take away from him being a husband."
Beth took inspiration from 1 Timothy, which states: "For if a man cannot manage his own household, how can he take care of God's church?"
Beth began watching the children when they were ages 3, 5, and 8. In return, she made the couple promise that they would not discuss "the business of parenting" while on their dates. 
"So to me, it was kind of like preventative medicine. I just wanted them to have a date night once a week to where they could connect and just take care of their marriage," she said. "So much is put on them to shepherd the flock. I see it as we need to love on them and encourage them. I just felt, as one of the flock, that it was important to just take care of them in whatever way I could."
One night for the couple's anniversary, instead of going out to eat, Beth and the children prepared and served a meal to the parents on their patio. 
"I had the kids be waiters and waitresses and we cooked a really nice dinner. We put them out on the patio to celebrate," she said. "That was a real special memory of them just helping me cook a somewhat nice but simple dinner and going out and serving. They got to serve their parents." 
Beth explained she was "probably more blessed" than anyone to be able to develop a relationship with the family as she struggled with loneliness after her divorce.  
"They certainly blessed me. It was really neat how the Lord worked that all out," Beth said. "They were like my small group, my life group. It's just nice to be with them and to connect. Work was very demanding. Being alone and single, it was nice to have that other family." 
"And anytime we stare at our belly button, we can get pretty miserable real quick," she added. "Kids can bring joy like no other because they are kids and pretty wonderful." 
Considering that Beth's act of generosity was not fueled by a larger movement but rather her own calling from the Lord, she is encouraged to see a nationwide movement taking place.
"Wouldn't it just be the coolest thing ever if this just caught on?" she asked. 
"To me, the ripple effect of the pastor who is up there talking about marriage, and how we are supposed to love one another and how we are supposed to serve one another and die to ourselves, and he is doing it because he has been given the opportunity to do it. Wouldn't that be a much more effective message? It makes me cry when you hear when someone falls. What could happen with something that small? Could we start changing the direction of families here in America?"