1 Million Students Will 'Fix Our Eyes' on Jesus at 'See You at the Pole'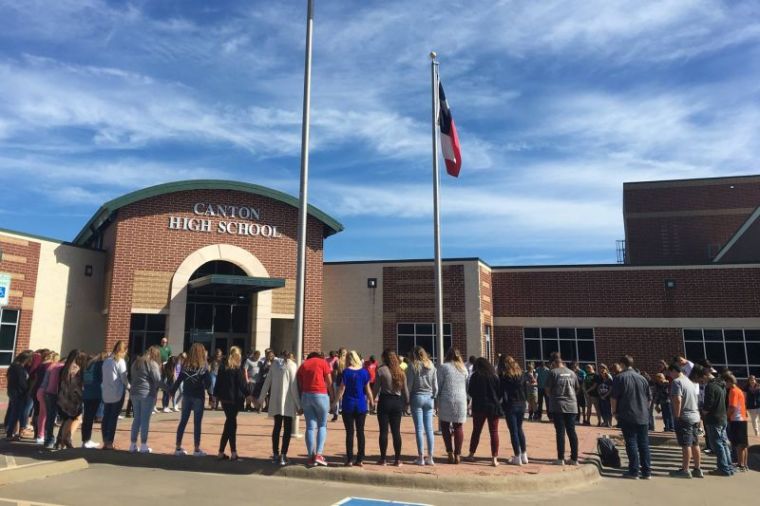 One million students across the United States and countries worldwide will observe the annual "See You at the Pole" prayer on school campuses Wednesday morning.
The theme of this year's SYATP event is "Fix Our Eyes," which is taken from Hebrews 12:2, which speaks of Christians "fixing our eyes on Jesus, the pioneer and perfecter of faith. For the joy set before him he endured the cross, scorning its shame, and sat down at the right hand of the throne of God."
Doug Clark, national field director for the National Network of Youth Ministries, which is involved in SYATP, told The Christian Post that the theme was chosen in response to the many distractions people have in life.
"Like those who were following Christ in the first century, there are plenty of distractions for students and adults: political and cultural conflict, the recent hurricanes, and much more," explained Clark.
"Only as we 'Fix Our Eyes' on Jesus will we find peace and have the opportunity to be a part of the solution instead of the problems in our country and world."
In comparison to past observances, Clark told CP that there is a chance that "the recovery efforts in Florida and Texas could impact the ability of students to easily assemble for prayer."
"And no doubt those praying will be praying for those hit hard in those states, and Puerto Rico, and Mexico," added Clark.
Launched by a small group of teenagers in Burleson, Texas, in 1990, SYATP has blossomed into a widely observed event with participants throughout the U.S. and other countries.
While the event has received some push back from those who question its legality, in 1995 the ACLU noted that the SYATP observance is constitutional.
"Student participation in before or after school events, such as 'See You at the Pole,' is permissible," the ACLU said in 1995.
"School officials, acting in an official capacity, may neither discourage nor encourage participation in such an event."
Clark told CP on Monday that he was unaware of any current legal challenges to the SYATP, noting that he and other organizers "are always helping school administrators and others understand the official recognition of SYATP, by the U.S. Dept. of Education, as a legitimate expression of protected free speech under the First Amendment of the Constitution."
"Also, when a club on campus sponsors SYATP, it has the same protections any other event might have, religious or not. This is due to the Equal Access legislation passed in the 1980s and affirmed by the U.S. Supreme Court," said Clark.