10 Awesome Ways to Avoid a Christmas Family Feud Using Holiday Song Titles, Lyrics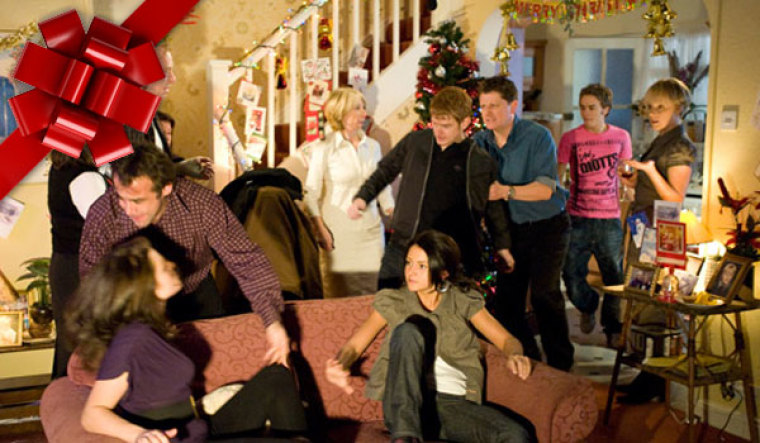 We all have family conflict and the holidays seem to be a time to pull them out. So, before you grab a turkey leg, warm up a mug of eggnog or trim the tree, you might want to check out these 10 ways to avoid a family feud this Christmas.
By Jay Lowder, Founder of Jay Lowder Harvest Ministries
1. Just because you are "Rockin' Around the Christmas Tree" doesn't mean it's an occasion to be throwing stones. Divisive words are like bars on a castle. Be certain that the only thing you call a fruitcake or nut job is the food.
2.Remember, "I'll be Home for Christmas." Don't just be in attendance physically but engage family members spiritually. Directing discussions toward blessings God has provided throughout the year neutralizes negativity. Seeking to avoid others with whom you have prior tensions puts you in a house environment but not a home environment.
3. A "Silent Night" is not a great way to cultivate harmony. Don't ignore those with whom you had issues but instead, decide to find common ground. Good memories and better days from the past are always a great place to begin conversation.
4. No one wants a "Blue Christmas." Don't dread reuniting with family. Ask God to change your thoughts about difficult relationships instead of your actions. What you think will determine how you react. The right present is not as important as the right presence.
5. "Frosty the Snowman" is only welcomed outside. Carry a warm, forgiving and approachable heart. Nothing diffuses prior struggles and frigid communications better than the gift of undeserved forgiveness.
6. "He sees you when you're sleeping and knows when you're awake" – and everything else about you. Don't forget the reason Christ came to earth was to bring restoration and his call is for you to show love to your in-laws and out-laws. God knows your heart and intention and is watching to see if you will represent Him correctly.
7. "O come all ye faithful." God always, always honors faithfulness. Be open and ask God to change you instead of your family members. Faithfulness means filled with faith and true to your commitment to Christ. Maybe your relationships with others won't change but your relationship with Jesus will as a result of your obedience.
8. Perhaps you feel you got "Ran over by a Reindeer" last Christmas when your feelings got hurt. This year, focus on reconciliation, not a resolution. This is not the time to prove a point and solve every past issue.
9. It's time for "Peace on Earth." Be sympathetic instead of stern, compassionate instead of critical. Jesus is the Prince of Peace and if there is an ever a day when there should be a truce among family, it should be on December 25th. Instead of pumpkin pie, eat a piece of humble pie.
10. Jesus is no longer "Away in a Manger," but He desires to be welcomed to your home. Ask Christ to invade your reunions. Be unashamed to talk about what Jesus has done in your life and the salvation that can be found in Him. Don't be like the innkeeper and deny His entry, but choose instead to give Him center stage.
Jay Lowder is the founder of Jay Lowder Harvest Ministries and author of "Midnight in Aisle 7."