10 Highlights From First-Ever State Dept. Ministerial to Advance Religious Freedom Worldwide
1. Potomac Declaration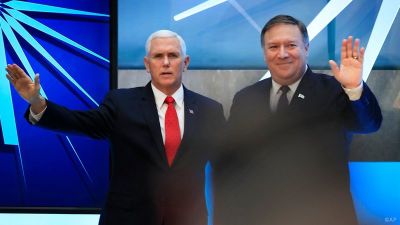 The ministerial concluded with the release of the Potomac Declaration, a document that calls for the right to religious freedom for everyone everywhere in the world.
Although the Universal Declaration of Human Rights was enacted over 70 years ago, the Potomac Declaration explains that still about 80 percent of the world continues to live in places where their religious freedom is violated in some form or fashion.
The preamble to the new declaration says that it is time for the international community to "address these challenges directly."
The declaration reads:
"Every person everywhere has the right to freedom of thought, conscience, and religion. Every person has the right to hold any faith or belief, or none at all, and enjoys the freedom to change faith.

Religious freedom is universal and inalienable, and states must respect and protect this human right.

A person's conscience is inviolable. The right to freedom of conscience, as set out in international human rights instruments, lies at the heart of religious freedom.

Persons are equal based on their shared humanity. There should be no discrimination on account of a person's religion or belief. Everyone is entitled to equal protection under the law regardless of religious affiliation or lack thereof. Citizenship or the exercise of human rights and fundamental freedoms should not depend on religious identification or heritage.

Coercion aimed at forcing a person to adopt a certain religion is inconsistent with and a violation of the right to religious freedom. The threat of physical force or penal sanctions to compel believers or nonbelievers to adopt different beliefs, to recant their faith, or to reveal their faith is entirely at odds with freedom of religion.

Religious freedom applies to all individuals as right-holders. Believers can exercise this right alone or in community with others, and in public or private. While religions do not have human rights themselves, religious communities and their institutions benefit through the human rights enjoyed by their individual members.

Persons who belong to faith communities and nonbelievers alike have the right to participate freely in the public discourse of their respective societies. A state's establishment of an official religion or traditional faith should not impair religious freedom or foster discrimination toward adherents of other religions or nonbelievers.

The active enjoyment of freedom of religion or belief encompasses many manifestations and a broad range of practices. These can include worship, observance, prayer, practice, teaching, and other activities.

Parents and legal guardians have the liberty to ensure the religious and moral education of their children in conformity with their own convictions.

Religion plays an important role in humanity's common history and in societies today. The cultural heritage sites and objects important for past, present, and future religious practices should be preserved and treated with respect."