10 Highlights From First-Ever State Dept. Ministerial to Advance Religious Freedom Worldwide
8. Bahrain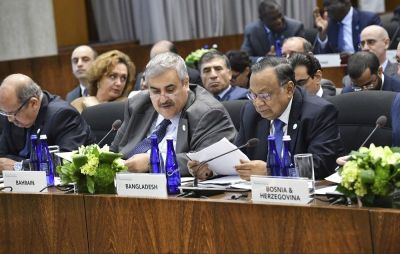 Labeled as a Tier 2 country of concern for religious freedom by the U.S. Commission on International Religious Freedom, Bahrain announced at the ministerial the creation of an ambassador at-large position for peaceful coexistence and religious freedom within the ministry of foreign affairs.
"We envision this role as not only helping us tell our own story but also learn from others and advocate for religious harmony and coexistence across the Middle East," a delegate from Bahrain said at the ministerial.
The delegate also suggested that there should be an effort to "intensify the documentation and preservation of religious minorities in the Middle East" to help ensure that the future generations are able to enjoy the religious diversity in the region. Additionally, the Bahrain delegate called for an exchange program for students of different religious backgrounds across the world to allow them to better understand different religious traditions.
"We are prepared to join in and assist in that effort," he said.
Bahrain has been at the forefront of promoting religious tolerance in recent years. In 2017, King Hamad bin Isa Al Khalifa signed the "Bahrain Declaration" calling for an end to religious extremism and violence.
"In Bahrain, under the leadership of King Hamad, we have tremendous pride in our centuries-long history of religious diversity and harmony," the delegate said. "King Hamad is keen to preserve and continue Bahrain's efforts in promoting religious freedom. His majesty established the King Hamad Global Center for Dialogue and Peaceful Coexistence in March 2018 and launched the King Hamad Chair for Interfaith Dialogue and Peaceful Coexistence at Sapienza University in Rome."