100-Y-O Presbyterian Church in Philadelphia With Historic Gothic Sanctuary Suffers Severe Fire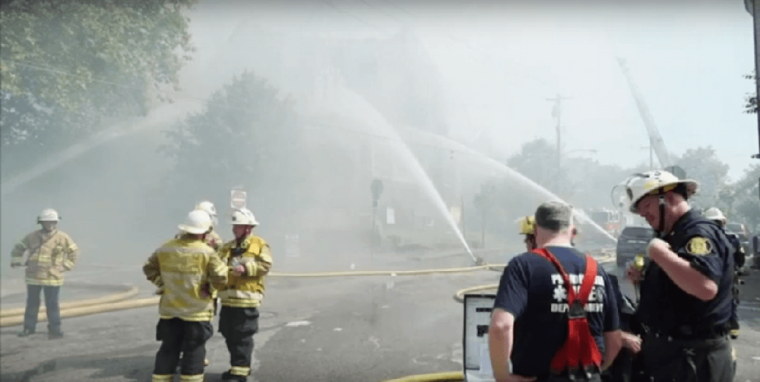 A Presbyterian church building in Philadelphia that recently celebrated its 100th anniversary has suffered a severe fire.
The spiritual home of Good Shepherd Presbyterian Church, which shares its building with four other congregations, caught fire Monday morning.
"The fire was reported at about 9 a.m. Monday at a Presbyterian church in the Overbrook neighborhood. Television footage showed flames shooting from the church's front door and side windows and heavy black smoke pouring from the roof," The Associated Press reported.
"Fire department officials said the blaze apparently started in the basement, and crews tried to battle it there but had to retreat and focus on protecting houses behind the church. Firefighters found one person on the second floor who didn't know about the fire and got that person to safety."
The gothic-styled sanctuary was located in Philadelphia's Overbrook section, with the flames being subdued within a couple hours. An investigation into the origins of the fire is underway.
The Good Shepherd congregation belongs to the Presbyterian Church (USA), a Mainline protestant denomination that is the largest Presbyterian body in the United States.
In addition to them, one of the other congregations sharing the historic building is a pro-LGBT religious group, according to local news station NBC Philadelphia.
"Pastor Pamela K. Williams of the Ark of Refuge Tabernacle, an LGBTQ-oriented congregation, was tending to her son's nosebleed at home when she got six calls telling her the church was on fire," NBC reported.
"She said it's been a struggle for her LGBTQ congregants to gain acceptance within mainstream Christianity. Williams' congregation was based at a motor lodge before moving to the church five years ago."
In an interview with the NBC affiliate, Williams said that her congregation "lost everything" in the fire, adding, "I just finished celebrating 35 years in the ministry yesterday with my church, and this on the heels of that breaks my heart."
Deputy Commissioner Robert Corrigan told ABC Channel 6 that the blaze was a challenging one to fight, requiring 120 personnel and involving efforts to protect the surrounding buildings.
"Church fires are notoriously difficult to fight," Corrigan told ABC. "They have a lot of void spaces and the fire can travel."