100,000 People to Hear Greg Laurie Proclaim the Gospel of Jesus Christ at SoCal Harvest 2016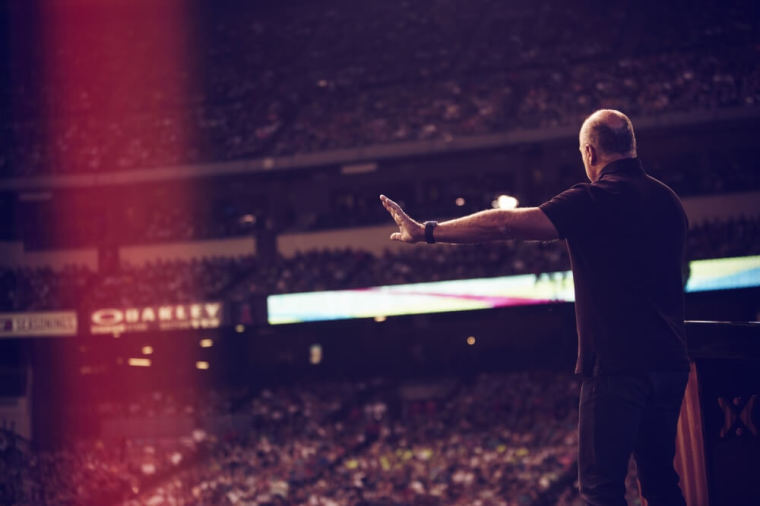 Over 100,000 people are expected to gather this weekend at Angel Stadium in Anaheim, California, to proclaim the Gospel and listen to messages from Pastor Greg Laurie and popular Christian artists like Chris Tomlin at the 2016 SoCal Harvest.
The three-night event, which is in its 27th year, is an opportunity for Christians in Southern California to invite their friends and acquaintances to hear Gospel messages and witness performances from some of today's most popular Christian artists.
SoCal Harvest, organized by Harvest Christian Fellowship based out of Riverside, California, is a free event and will feature musicians of various genres — from rock to hip-hop. The lineup features artists such as Tomlin, TobyMac, the band for King and Country, Phil Wickham, KB, Hollyn and Skillet.
"[There will be] different genres and slightly different vibes," Scot Camden, the communications director for Harvest Crusades, told The Christian Post on Thursday. "We are just trying to make sure that there is something for everyone and people can leverage that opportunity and invite a lot of people to attend."
Friday night will feature for King & Country and Tomlin, while Skillet, KB and the Harvest Worship Band are slotted to perform on Saturday night. On Sunday, Phil Wickham, TobyMac and Hollyn will perform.
Laurie, the senior pastor of Harvest Christian Fellowship and author of over 70 books, will highlight each night with a 35-minute Gospel message. According to the SoCal Harvest website, Laurie is likely to address existential questions such as, "What is the meaning of life?" and "What happens when we die?"
Since 1990, over 5.6 million people have attended Harvest outreach events, and over 476,000 of them have made proclamations of faith. Last year, SoCal Harvest's three-night attendance totaled over 105,000, while 76,596 watched the live webcast.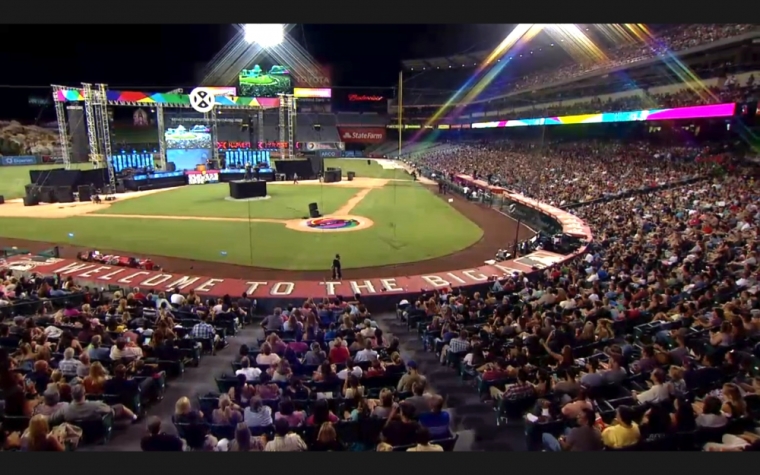 Additionally, at least 10,451 made the decision to give their lives to Christ at last year's SoCal Harvest.
"We will see somewhere in the neighborhood of 6 to 10 percent that respond each night," Camden told CP.
But even if some non-believers don't respond to the call to proclaim their faith at SoCal Harvest, Camden said the event could lead many of them to eventually let Christ into their hearts later on.
"Maybe it is the seed planted and the seed watered and they might decide to pray Jesus Christ into their hearts quietly on their own," Camden said.
Since the event is free, it is largely funded through Harvest Christian Fellowship with the help of other area churches, individuals and partners who support Laurie and his ministry.
Seating will come on a first-come, first-serve basis, as Angel Stadium has a seating capacity of about 45,050.
"We don't want to charge people to come out and hear the Gospel message," Camden explained. "We don't that to be the stumbling block that someone would potentially not come because they can't afford a ticket. We want this to be a low-stumbling-block opportunity. We want people to be able to invite their friends out. Come and hear great Christian music and the proclamation of the Gospel."
With the help of The Fred Jordan Missions, a non-perishable food drive will also be held during the event to benefit the homeless people of Los Angeles County.
For those who are unable to attend the event, the live webcast of the event can be viewed here.