13-Y-O Who Died Claims He Visited Heaven, Saw Jesus as Dark Male Figure With Beard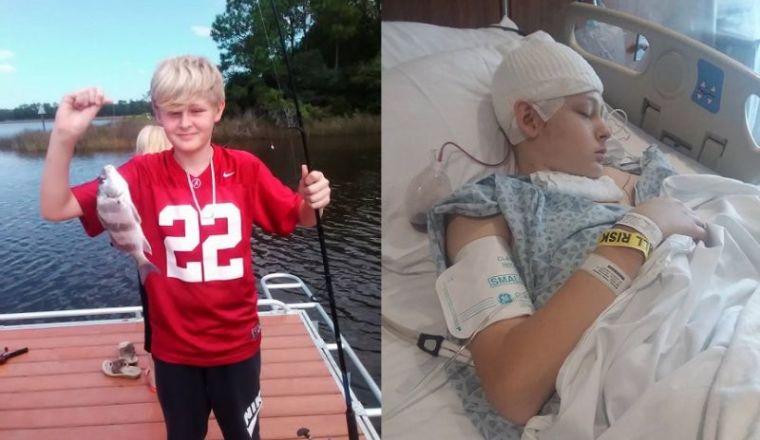 A 13-year-old Alabama boy who miraculously recovered after doctors declared him brain-dead and were set to harvest his organs to donate to five other children, said he was in Heaven walking with Jesus and a sibling who died before he was born.
"I saw a dark male figure with a beard," the teenager, Trenton McKinley, told CBN Wednesday. "He held my hand as I walked through a field. I was holding a baby in my arm. My mom told me she lost a boy from a miscarriage before I was born. I know it was my brother."
McKinley's mother, Jennifer Reindl, who has been singing praises to God and sharing her story since her son's miraculous turnaround, said she continues sharing her story because she wants to change lives.
"I hope our story changes lives and am thankful for all the prayers and kind words. I am forever thankful to the Lord and out of gratitude will speak in the Lord's favor and as a witness to his miracle ... my hopes are that our story brings hope to any mother out there facing such odds ... from one mother to another mother I send love and prayer. Happy Mother's Day and God bless you all," Reindl wrote in a statement on Facebook Wednesday.
Two months ago, according Fox 10, McKinley was riding in a small utility trailer being pulled by a dune buggy for children when his friend pressed on the brakes suddenly, causing the trailer to flip. The teenager got caught in the trailer as it flipped after he threw his friend's 4-year-old niece into the grass to save her.
"I hit the concrete and the trailer landed on top of my head. After that, I don't remember anything," McKinley told Fox10.
Reindl told the network her son had seven skull fractures and died for about 15 minutes. Doctors did not expect a recovery to celebrate.
"All I saw was a stretcher with his feet hanging out. He was dead a total of 15 minutes," Reindl said while fighting back tears. "When he came back, they said he would never be normal again. They told me the oxidation (oxygen deprivation) problems would be so bad to his brain, that he would be a vegetable if he even made it."
Her son was on life support and barely breathing for several days so she decided with his father to sign documents allowing the donation of his organs to five waiting children.
"His eyes were solid black and dry and I knew he would not hesitate to save five more lives," Reindl told CBN.
The day before doctors planned to shut off his life support, McKinley started recovering.
"The next day I got a call ... they canceled the final brain wave test ... right before they hooked him up his hand moved, then his feet ... so they looked at his eyes and they were back ... he had blue eyes ... now they are green with small white specks like glitter ... they say when you look upon God ... pigment changes ... and my baby was in Heaven for a whole day ... he is a miracle," Reindl said.