Churches, lawmakers take part in 90-hour Bible Reading Marathon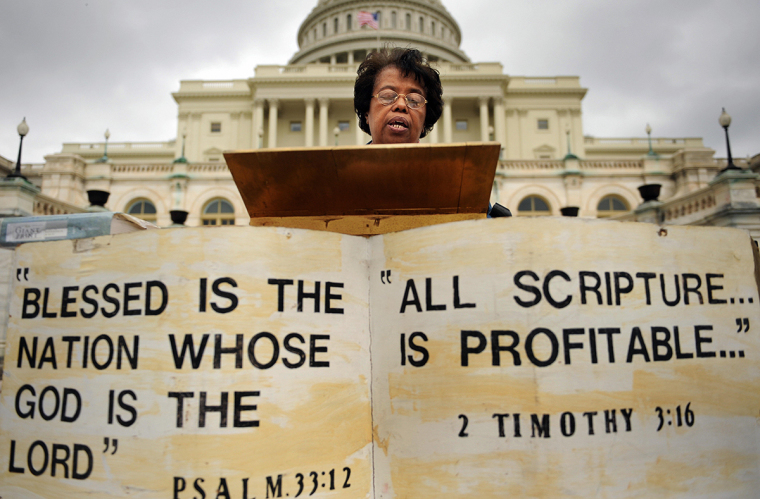 The annual 90-hour Bible Reading Marathon will kick off in Washington, D.C., Saturday as several congregations and members of Congress are expected to take turns reading from Genesis to Revelation in about four days.
The 32nd annual D.C. Bible Reading Marathon will begin at 2 p.m. Saturday. It will continue through 10 a.m. Wednesday. Hosted by the Indiana-based Bible distribution ministry Seedline International, the event will also be streamed online.
The event traditionally has taken place every spring on the West Terrace of the U.S. Capitol and has featured readings from members of Congress. 
But the coronavirus pandemic postponed last year's Bible Reading Marathon to September. This year, the impending inauguration forced the Bible Reading Marathon to find an alternate venue.
Last year, the event took place inside the headquarters of the evangelistic organization Faith and Liberty, located near the U.S. Supreme Court on Second Street. The organization seeks to take the "Gospel of Jesus Christ to the nation's top elected and appointed officials."
While Davidson sought to return the event to the U.S. Capitol this year, it will again take place inside the Faith and Liberty office. 
Seedline International Director Keith Davidson told The Christian Post that the Capitol is still surrounded by fencing and razor wire, and they'd need a waiver to hold the reading for four consecutive days. 
"So we weren't able to secure that through the … Congress as of yet," Davidson added.
In the past, prominent speakers, including elected officials, have participated in the Bible Reading Marathon. 
Davidson said that this year, members of the House and some Senators will be participating by reading Scripture virtually. However, he couldn't disclose which lawmakers because "it's all questionable at this point." He said Sen. Ted Cruz, R-Texas, a former Republican presidential candidate, recorded a one-minute introduction. 
"I think the Bible's our first, most important document we have, and then the second would be our Constitution in this country," he said. "And of course, the Constitution was … founded on biblical principles. And so, our goal is to try to get people to return back to that or think about that or show them the importance of it."
Since the Jan. 6 Capitol riot, much of the Capitol has been surrounded by fencing and razor wire. 
Davidson told CP that although "the fence is still up and they haven't been issuing any permits as of yet," he has applied for a permit to hold next year's marathon on the West Terrace once again. 
"Normally, when we're outside … people sit in the front or groups stop and listen and certainly come by, but that's the disadvantage of being in the building," he said. "We will have the allowable limit — I think it's 25 or 50. But we won't have that many in the building because the building's not that size, but we'll have folks coming through. They'll come read and then leave."
Like 2020's Bible Reading Marathon, the 2021 event will include a virtual component. Davidson estimates that between 400 to 500 people will participate online.  
"We have 360 15-minute slots to fill. And this time, because of virtual reading, we had several churches who ... signed up," he said. 
"And so, they'll take their time, and part of their congregation will be reading in that timeslot. So there will be some taking one hour, some two hours, so that all their congregants can read a portion of the scripture."
Davidson lamented that "we have strayed extremely far" from biblical principles. But he remained optimistic that "there's still a strong base" of "Christian believers and Christian principles" even though a majority of the country's leadership has embraced "worldly" principles. He hopes that the marathon will inspire the nation to re-embrace biblical principles.