38 Members of Congress Urge John Kerry to Use 'Every Legal Means' Available to Rescue Meriam Ibrahim and Children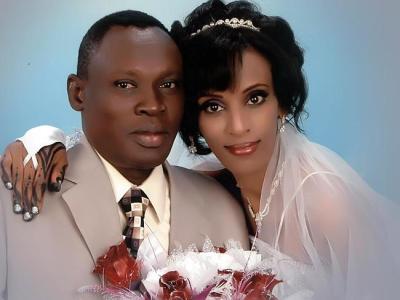 Thirty-eight members of the U.S. Congress wrote an open letter on Thursday to Secretary of State John Kerry, asking him to use "every legal means" necessary to rescue Christian mother Meriam Ibrahim and her two young children currently being held inside a Sudanese prison.
"We request that the U.S. State Department, in partnership with the U.S. Department of Homeland Security, review granting Mrs. Ibrahim Significant Public Benefit Parole, asylum, or refugee status, as appropriate. In short, we urge that every legal means necessary be exhausted to ensure that she and her young children are provided safe haven," reads the letter, led by Congressman Trent Franks, R-Arizona, and Congressman Frank Wolf, R-Virginia.
The letter also asks that her two children, Martin and Maya, be granted U.S. citizenship, because their father, Daniel Wani, is a U.S. citizen.
The Sudanese mother was sentenced earlier this year to 100 lashes and death for what Sudan's Public Order Criminal Code deems adultery and apostasy, simply for marrying a Christian man and identifying as a Christian even though her estranged father is Muslim.
The Christian mother has refused to recant her faith even though she was told it could save her from the death penalty.
Several Christian groups and U.S. lawmakers have taken up her cause, with her story gaining international attention.
Sen. Ted Cruz, R-Texas, called on President Barack Obama to directly engage Sudan and call for Ibrahim's release.
"We need leadership in America. The president of the United States should stand up and speak on Meriam Ibrahim's behalf," Cruz said at Faith & Freedom Coalition's "Road to Majority 2014" conference Thursday.
International Christian Concern added that the letter from members of Congress comes at a "crucial juncture," and said that the State Department has stalled in the process of acknowledging that Ibrahim's children are U.S citizens.
"This acknowledgement would place even greater pressure on the Sudanese government, which is already feeling increasingly isolated by the international community over this case, to release Meriam. The U.S should make every possible effort now, while momentum is at its peak, to encourage Sudan to immediately release Meriam and her two children and guarantee that her entire family reach safety," ICC's Advocacy Director, Isaac Six, said in a statement.
Several online petitions have called for Ibrahim's release, but a White House petition that would prompt a response from the Obama admin on the issue still needs close to 50,000 signatures by June 27.
"We urge you to pressure the Sudanese government to release Meriam and her children so she can escape execution and possible death of her children and be rejoined with her husband in the U.S. Please grant her expedited safe haven in the U.S., where she could seek asylum," the petition asks the president.