$40 million Genesis fragment, unpublished manuscripts, Bible museum: Nat Geo on biblical artifacts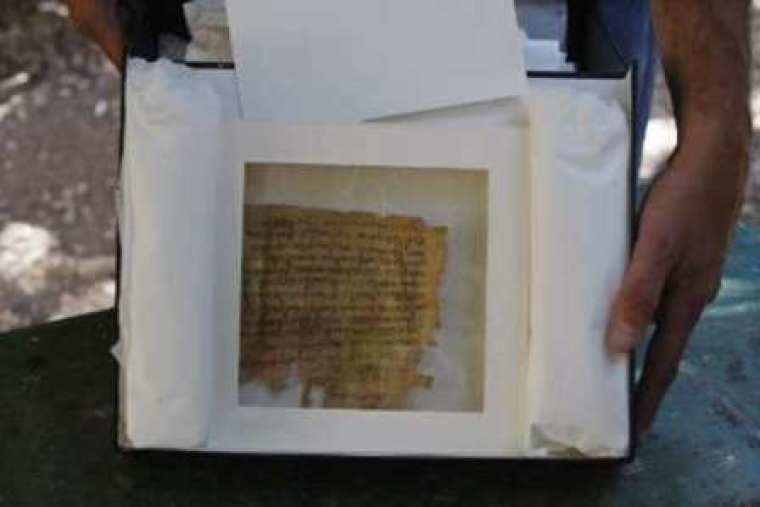 Though archaeologists continue discovering more and more artifacts stemming from biblical times, a huge number of New Testament manuscripts reportedly remain unpublished.
The December issue of National Geographic details what it called the evangelical Christian search for biblical authenticity, pointing out that there are numerous important finds yet to be shared with the public.
One of them is a fragment from Genesis, the first book of the Bible, valued at $40 million by a dealer named Khalil Iskander Shahin in Jerusalem.
Shahin, also known as Kando, has been in possession and sold several Dead Sea scrolls to collectors, though refused to sell the Genesis fragment in question to Steve Green, co-founder of the Museum of the Bible in Washington D.C.
"Steve Green came to see me many times," Kando says. "He's an honest man, a good Christian. He offered me $40 million for my Genesis fragment. I refused. Some people say it is priceless."
Green claimed, however, that it was Kando that set the price at $40 million, forcing him to look for more affordable scrolls.
A number of scroll hunters revealed that great quantities of ancient documents remain to be published.
Benedictine monk Father Columba Stewart of the Hill Museum and Manuscript Library at Saint John's University in Minnesota said that he has traveled around the world to digitally document ancient biblical manuscripts.
He noted that more than 5,500 Greek manuscripts and fragments have been found of the New Testament, totaling as many as 2.6 million pages, yet many have not been studied by scholars.
Father Olivier-Thomas Venard of the École Biblique et Archéologique Française, a Dominican research center in Jerusalem positioned that "80 percent of already known manuscripts that would be of help for New Testament scholarship aren't published yet."
Venard's colleague Father Anthony Giambrone called it an "embarrassment of riches" and that "the challenges of textual criticism [is] insurmountable. There are just not enough specialists to work on them."
The article profiled a number of other endeavors hunting for ancient manuscripts, but also offered why the search is so important for evangelicals.
As Green, who has spent much of his life collecting and sharing biblical artifacts, explained, it all comes down the question of whether people's faith is based on fact or fiction.
"When visitors to our museum see an ancient text, they're seeing evidence that what they believe isn't just a bunch of fairy tales," the Bible Museum co-founder said.
National Geographic added a caveat:
"But how good is that evidence? Assuming for the moment that the God of the Bible actually exists and that he somehow spoke to the authors of the ancient biblical documents — do we have now what they wrote then? After all, none of their original writings, what scholars call the autographs, have been found. Their words survive only because they were hand copied countless times until the invention of the printing press in the 15th century. And even conservative scholars admit that no two copies are exactly alike."
In an interview with The Christian Post in March, Green said that the hundreds of thousands of visitors to the Museum of the Bible, who are treated to an expanding collection of biblical artifacts spanning decades of work, are not being preached to.
"We are telling this book's story," he told CP. "It's not about a denomination, a church, a faith tradition. It's about a book that runs through multiple faith traditions whether it be Catholic or Protestant or Jewish traditions."
"We wanted an atheist to feel comfortable in the museum, they don't feel like we're pushing an agenda," he added at the time.
"The average person that doesn't really fully understand to the degree that this book has impacted their life, they can walk away from this museum and realize it's had an impact on their life whether they realize it or not."