4221 Primrose Ave: The Scandalous Past of Building Housing Jamal Bryant's Empowerment Temple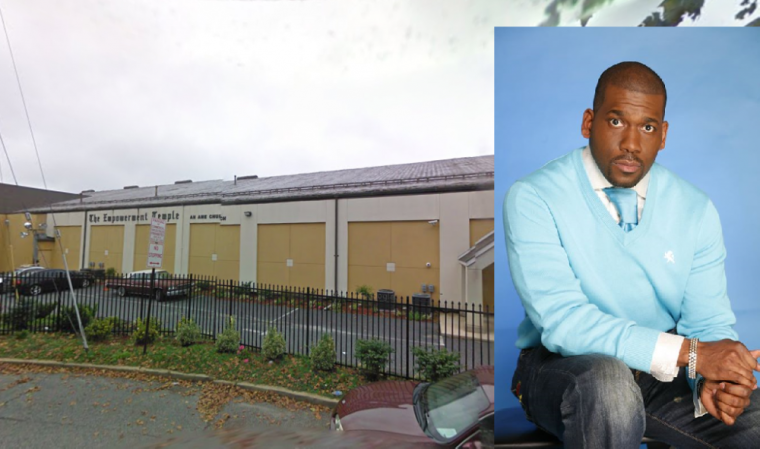 If walls could talk, the building housing Pastor Jamal Bryant's Empowerment Temple megachurch at 4217-4221 Primrose Avenue in Northwest Baltimore would perhaps be screaming "scandal."
Before the scandal-scarred Bryant made the fated Primrose Avenue address in Baltimore the home of his church in the early 2000s, he was preceded by church leaders whose spiritual walk was just as spotty.
In 1984, according to Maryland Corporates, David Harold William Brown registered the address as the home of the Living Word Christian Center.
By 1994, however, a report from The Baltimore Sun revealed that Brown, who had renamed the church the New Destiny Christian Center and served as pastor of the outfit, was involved with a lot more than just preaching the Word of God.
A lawsuit filed in Baltimore Circuit Court alleged that Brown impregnated Ernestine Council, a secretary at a school run by the church, then fired her and her husband, Marvin, who was also working as a teacher at the school.
The couple sued for $2.4 million in compensatory and punitive damages. The suit contended that about four weeks after the couple, who were both church members, began marriage counseling with the pastor in October 1993, Brown "summoned" Earnestine Council to a hotel and "initiated a sexual relationship" with her. They carried on the arrangement until February 1994. When Brown discovered Earnestine was pregnant, he allegedly fired her and her husband and ordered them never to return to the school or the church.
The suit alleges that the church "was on notice as to the ... propensities of defendant David Brown related to sexual misconduct with church members, due to notification of such propensities by other church members." The suit also charged that the church did not do enough to "adequately supervise and monitor" the pastor's behavior and failing to investigate his background.
According to a report in Charisma Magazine in September 2006 the infamous Florida megachurch pastor Zachery Tims, who was found dead in a New York City hotel room in 2011 from "acute intoxication by the combined effects of cocaine and heroin," according to the NYC chief medical examiner's office, also got his start in ministry at the New Destiny Church in Baltimore that was formerly Living Word Church.
According to the report, Tims, who was delivered from a life of drugs and crime, volunteered to work with the youth ministry at the church and it was there that he met his wife, Riva.
"I told God that I wanted someone who had never been in the streets, never dealt with the clubs and never had sex or did drugs," Tims told the magazine. "God gave me a person the opposite of what I was, which was the stupidest thing … since I didn't deserve it."
Tims married Riva in 1994, and in 1996 they were sent out as missionaries to Orlando, where they founded the successful New Destiny Christian Center now led by prosperity preacher Paula White.
By 2007 Tims was in the headlines not for his compelling testimony but for being caught in an affair with a stripper. Riva later revealed that her husband was a serial cheater after officially divorcing him in 2009. Three years after that, Tims was discovered dead at the W Hotel in Times Square, New York, lying on his back between the bedroom and living room area. Law enforcement officials said he had a glassine envelope with a white powdery substance inside the right pocket of his shorts.
Bryant, who now leads the 12,000-member Empowerment Temple church at the fate address, has been under pressure in recent weeks to address a damning allegation by 34-year-old Latoya Shawntee Odom that he fathered a child with her last summer and has not been consistently paying child support.
He has since declared that he is "flawed with character" and that "God ain't finished with me." He has repeatedly ignored requests from media, including The Christian Post, to confirm or deny the allegations made by Odom.