5 Christian Athletes Who Made an Impact in 2017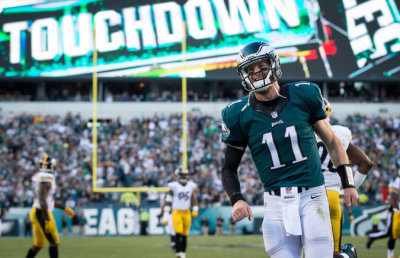 Carson Wentz
The Philadelphia Eagles quarterback made quite a name for himself on the field during his breakout 2017 NFL season. Despite tearing his ACL earlier this month, Wentz still leads the NFL in touchdown passes and is considered to be a top MVP candidate.
But what many might not know about the 24-year-old who won four national championships at North Dakota State is that he is a devout Christian who is not afraid to share his faith.
Wentz is very vocal about his faith on Twitter. Earlier this year, he was asked to respond to criticism he receives for being so vocal about his faith on social media.
"If you're grounded in the world, criticism is hard," Wentz told the Faith on the Field radio show on Philadelphia's AM 610. "But Christ was nailed to a cross, and Paul went to jail for talking about Jesus, so I can stand a few negative tweets."
At a live event at Christian Eastern University in Philadelphia earlier this year, Wentz explained that Satan wants Christians to believe the "lie" that people can be saved through actions such as praying and going to church.
Wentz launched his charitable AO1 (Audience of One) Foundation just before the 2017 season began. The foundation exists to "demonstrate the love of God by providing opportunities and support for the less fortunate and those in need."
Carson Wentz and the AO1 foundation played an instrumental role in creating a 15-day YouVersion Bible study plan called "Professional Football Players on Humility & Surrender."
The study includes Wentz and Eagles teammates Trey Burton, Nick Foles, Zach Ertz, Chris Maragos and former Eagles teammate Jordan Matthews. The devotional features the players discussing scriptures that focus on "staying humble and walking in surrender to the Lordship of Jesus."
In addition to the work that the AO1 Foundation does to help the poor and provide unique opportunities for the physically challenged, Wentz and a number of his Eagles teammates also teamed up with members of the Washington Redskins earlier this season to raise money for International Justice Mission in their fight to end sex trafficking throughout the world.
Wentz and the AO1 Foundation also made headlines by raising over $120,000 to help provide service dogs to people with disabilities.