64-Year-Old Diana Nyad Makes History as First Person to Swim 110 Miles From Florida to Cuba Without Shark Cage
'You're Never Too Old to Chase Your Dreams,' She Says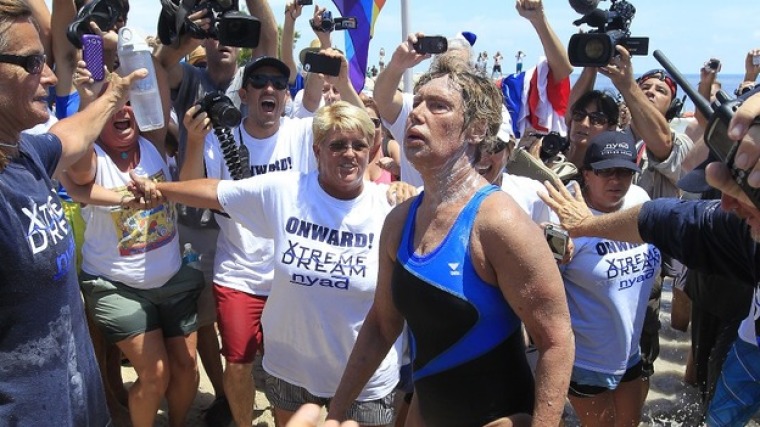 After four failed attempts, 64-year-old Diana Nyad completed an inspiring and historic feat on Monday to become the first person to swim 110 miles from Cuba to Florida without a shark cage.
And after a grueling 52 hours and 54 minutes battling the seas, Nyad still had enough strength left to walk ashore on Monday and greet a celebrating throng of media and well-wishers with inspiring words about her lifelong dream, according to the Los Angeles Times.
"One is, we should never ever give up," said Nyad as the crowd erupted in cheers. "Two is, you're never too old to chase your dreams."
"Three is, it looks like a solitary sport, but it's a team," she ended before she was rushed off on a stretcher for a medical examination.
The swim was a punishing one for Nyad. The Times report noted that after the swim the 64-year-old's tongue and lips had become swollen while her doctors remained "concerned about her airways."
At night, the waters had become so cold the fit senior opted not to stop and eat hoping that the continuous movement would keep her warm enough.
She later told CNN: "With all the experience I have, especially in this ocean, I never knew I would suffer the way I did."
"For 49 hours the wind just blew like heck, and it was rough." She said she was vomiting at one point because she had so much salt water in her system. She also sang lullabies to comfort herself.
"It was really rough that first day, Saturday, after the start and I just said: 'Forget about the surface up. Get your hands in somehow, and with your left hand, say, push Cuba back, and push Florida towards you,'" Nyad told CNN. And through the whole journey she just kept repeating to herself: "You don't like it. It's not doing well. Find a way."
According to CNN, Nyad took her first shot at crossing the Straits of Florida in 1978 but the rough seas forced her to abandon the mission midway through. She tried and failed again twice in 2011 after being derailed by an 11-hour asthma attack and jellyfish stings. She also abandoned another attempt last year after jellyfish stings and a lightning storm threatened her life.
Last Saturday, at 8:59 a.m., Nyad, a former 1970s swimming sensation, decided that this would be her last time attempting the feat as she swam off from Havana with a 35-person crew which included divers that would help her fend off any shark attacks.
"I decided, this one no matter what happened, I don't want that experience again -- like right now, tonight -- talking to you about the journey is worth everything. It is. But I didn't want to be here packing up again," she told CNN's Sanjay Gupta.
When Gupta told her she was a hero, she simply responded: "I think that a lot of people in our country have gotten depressed, pinned in, pinned down with living lives they don't want."
"I do write all the time about -- you tell me what your dreams are. What are you chasing? It's not impossible. Name it," she said.