7 Christian Leaders Arrested Protesting Trump's Budget Proposal on Capitol Hill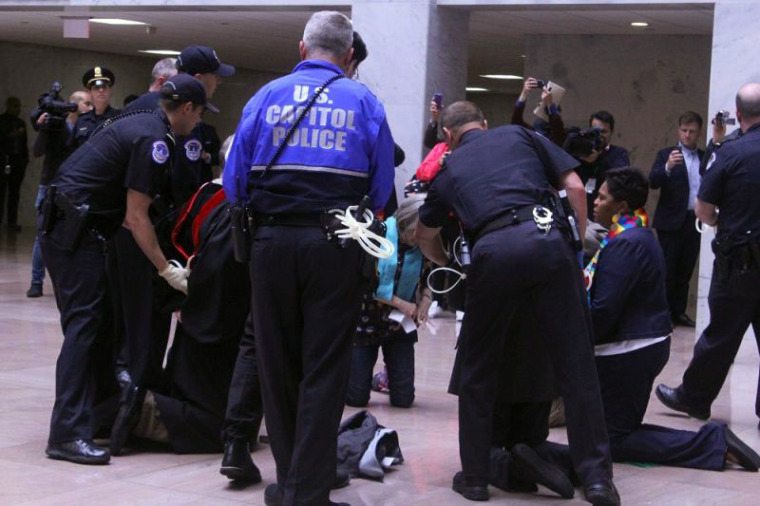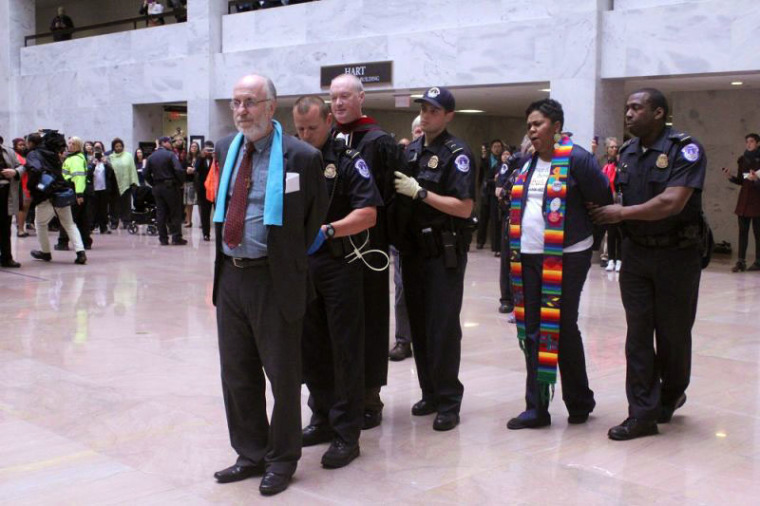 View Photos
WASHINGTON — Seven left-leaning Christian leaders were arrested on Monday after protesting inside of a congressional office building on Capitol Hill in opposition to President Donald Trump's "immoral" budget proposal.
The seven detainees were a part of a large group of left-leaning Mainline Protestant leaders who demonstrated outfront of the United Methodist Building on Maryland Avenue around noon Monday as part of the annual "Ecumenical Advocacy Days for Global Peace with Justice."
The leaders called Trump's budget proposal, which would cut many aid programs and increase military and border security spending, "sinful."
After a handful of faith leaders representing the United Methodist Church, the Presbyterian Church (USA), the United Church of Christ, the Progressive National Baptist Convention and other organizations spoke outside the Methodist building, those gathered prayed for Congress to reject Trump's budget proposal, saying that it "invests in war at the expense of poor and marginalized people."
Following the prayer, dozens of participants marched a short distance to the Hart Senate Office Building.
Once inside the building, the participants who were willing to risk being arrested for civil disobedience dropped to their knees in a circle and began praying and singing spiritual songs like "Wade in the Water" and "We Who Believe in Freedom Cannot Rest."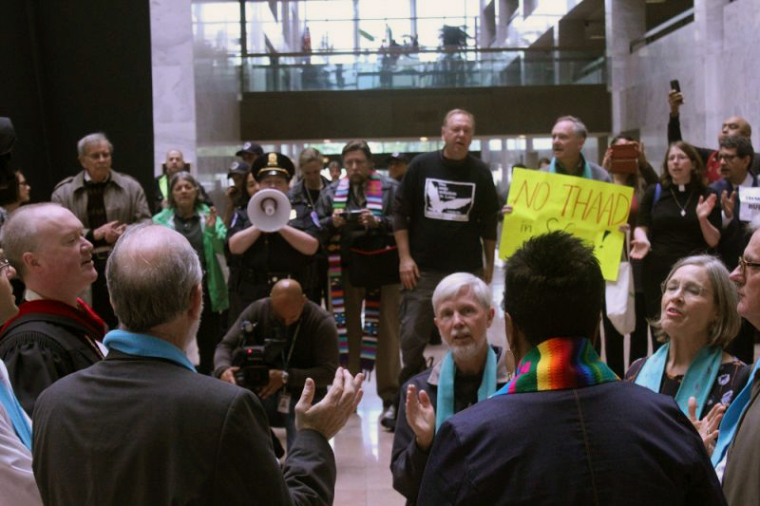 A Capitol Hill police officer warned the faith leaders over a bullhorn that they would be arrested if they did not halt their act of civil disobedience. After a couple minutes, a team of officers surrounded the demonstrators, apprehended them and led them away.
Among the faith leaders who were arrested were the Rev. Traci Blackmon, the executive minister of the United Church of Christ's justice and witness ministries; Patrick Carolan, the executive director of the Franciscan Action Network; Doug Grace, the director of Ecumenical Advocacy Days; and Eli McCarthy, the director of justice and peace for the Conference of Major Superiors of Men.
A press release explains that other faith leaders who were arrested are Bob Cooke, Elizabeth King and Scott Wright.
"I think [these arrests] send a strong statement," Jimmie Hawkins, the director of PCUSA's Office of Public Witness, told The Christian Post. "One of the issues with the Church today is it is too quiet. I think people are looking for the presence of the Church, the opinions of the Church or how we feel about different things that are happening. I think it is very good that faith leaders are putting themselves forward."
At the public demonstration in front of the United Methodist Building, Hawkins argued that Congress should only pass a budget that "advances the public good."
"Rather than increasing Pentagon spending, we petition Congress to increase spending for programs that provide support to people living in poverty in America and abroad, that addresses systemic racism, that exercises responsible care for the Earth. Budgets can do great good when put to the service of the poor. Or, they can do great harm," Hawkins said. "When implemented with compassion, they can lift millions out of poverty or doom them to a life of despair. They can provide health insurance or make bankrupt those who don't have it."
"Christians, our faith calls us to advocate for a public policy that ensures the just allocation of resources for the common good. Our federal budget is a moral document," Hawkins added. "It is a reflection of the values and priorities we value as a nation."
Introduced in March, Trump's budget calls for the cancellation of the $3 billion Community Development Block Grant entitlement program, one of the longest running aid programs in the Department of Housing and Urban Development that funds a number of affordable housing and anti-poverty programs. Trump's budget also calls for a nearly 18 percent cut to the Department of Health and Human Services and calls for "deep" cuts to foreign aid programs.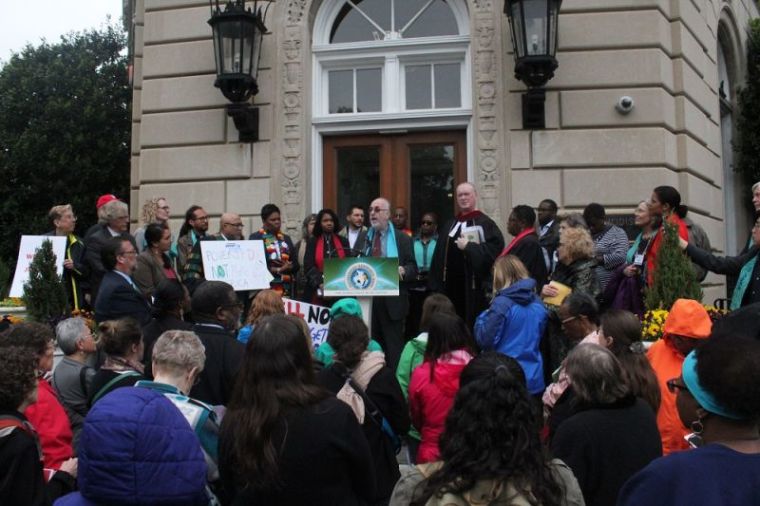 Meanwhile, Trump's budget proposal calls for increased military and border-security spending.
"Our leaders are looking and talking as if our budget is an economic document. But it's not. They are looking at it like a balance sheet. But, it's not. It's a statement of the moral compass of our nation and we are failing. It should reflect our highest qualities and take care of the most vulnerable and support a just and equitable society," Carolan said during the demonstration. "The budget presented by President Donald Trump turns its back on that quality as evidenced by the laundry list of programs and institutions that he would drain of resources in favor of expanding military spending."
Carolan added that he is "very angry" because his faith and religion have been "hijacked by people claiming to be Christians, promoting a theology of hate, a theology of fear, a theology of separation, a theology that justifies destruction of this beautiful and wondrous creation, a theology of war, not of peace."